If you're trying to decide where to stay in Lima, it helps to have an overview of the city's best neighborhoods.
There are 43 districts in Lima — a city of almost 10 million people — but only a handful typically serve as popular bases for visiting tourists. These popular areas tend to have a good balance of safety, nearby attractions, restaurants and bars. They're also located within reasonably short distances of each other, making it easy to visit them all no matter which one you choose to stay in.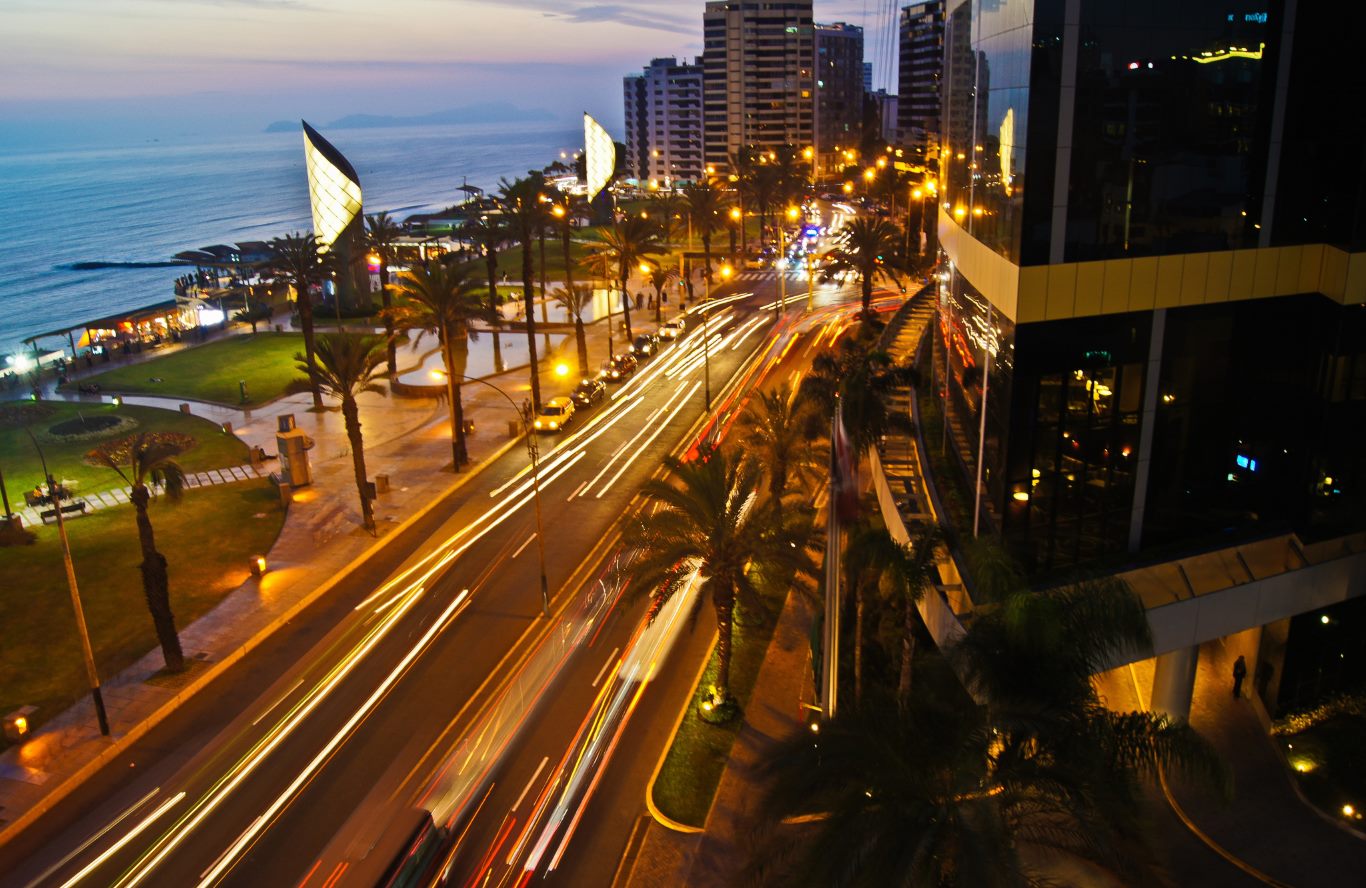 Miraflores
Miraflores has long been the most popular district in Lima among foreign tourists. Day or night, you can walk around Lima and see almost as many foreign faces as those of locals. It's full of bars and cafes, fancy restaurants and familiar fast food joints, and nightclubs that range from chic to sweaty and sexy (and sometimes borderline sordid).
Miraflores fits any budget. You'll find hundreds of cheap to midrange hostels, and hotels from US$20 to $400 a night. You can eat for cheap in the street or at a whole bunch of affordable restaurants selling lunchtime menús. Or you can fine-dine at world-renowned restaurants like Central.
The location is just about perfect. The Barranco district is next door to the south and San Isidro to the north, and it's easy to hop on the Metropolitano or hail a taxi to the historic center of Lima. Miraflores is also a coastal district; the scenic coastal walkway, known as El Malecón, stretches along the cliff tops. El Malecón is a hotspot for paragliding, as well as jogging, cycling and smooching.
Architecturally, both Central Lima and Barranco are more appealing. But Miraflores does have some museums and even a major archaeological site, Huaca Pucllana. It's also a prime spot for shopping, with tourist markets, shopping centers (most notably Larcomar), and plenty of fancy clothing stores.
Despite being a fairly exclusive residential and upscale shopping district, Miraflores is nonetheless a good mix for tourists, especially for first time visitors. It's safe during the day and reasonably secure at night, but it's best to walk in groups late at night once the streets start to clear.
One other current benefit of basing yourself in Miraflores — especially if you're a backpacker on a tight budget — is the emergence of cheap shuttle services to and from the airport. As things stand, these services only go to and from Miraflores, although they are looking to add more districts in the future.
Find and book hostels and hotels in Miraflores with Booking.com.
Walking down the bajada de los baños, the path that leads from the Barranco district down to the sea. Photo by Tony Dunnell.
Barranco
Barranco, by almost all accounts, is Lima's Bohemian district. Being "boho" these days seems more about pretentiousness and commercialism (especially if you like designer-label flowery dresses) rather than second-hand clothes and creativity, but Barranco used to be the real deal. From the early-1900s to the tail end of the 1960s, Barranco was the hangout for all of Lima's artists and poets, playwrights and photographers, musicians and wannabe creative-types.
Today, well, it's still got some of that floating around in the air, among the wafting clouds of weed emanating from groups of Chilean hippies, and the floating chatter of young backpackers looking for beer and live music. And Barranco is a great place to listen to live music. The district's bars and other venues attract local bands and acts from across South America and beyond; you can see the concert schedule for Lima here.
Beyond the nightlife, Barranco is a fine place to take a stroll during the day, and is one of the most interesting and colorful districts in Lima when it comes to architecture and street art. Old colonial casas and Republican-era mansions dot the streets, some restored and others in states of sad yet grand decay. Houses are painted in blue, green and orange hues, and some streets are wide and tree-lined. The wooden Bridge of Sighs still attracts young lovers, and two relatively new museums — the Museum of Contemporary Art and Museo Mario Testino (MATE) — keep the arty types rolling in.
Bohemian? Maybe, maybe not. But a good district to stay in Lima? For sure, especially if you want something less commercial than Miraflores.
Find and book hostels and hotels in Barranco with Booking.com.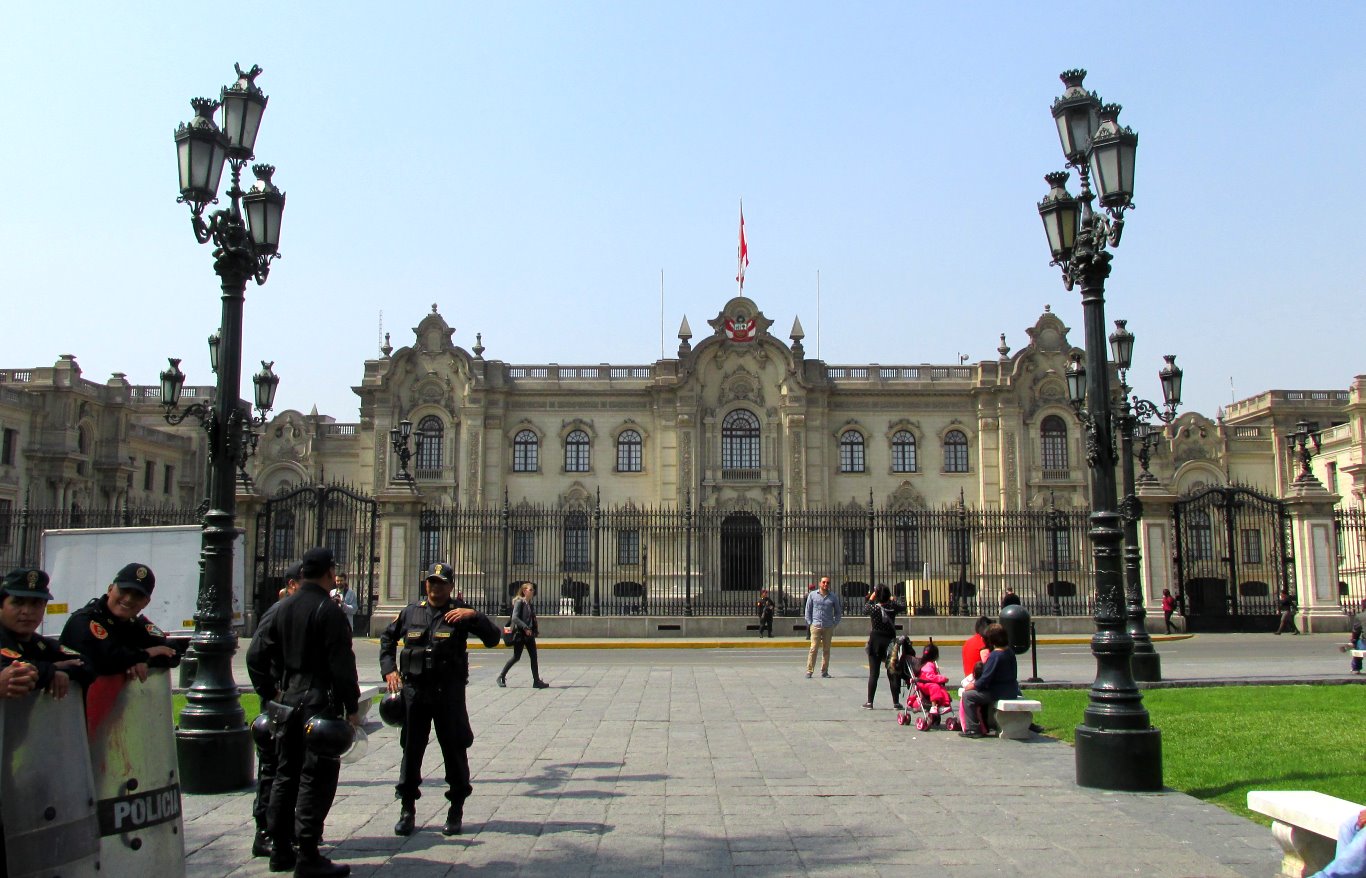 The Plaza Mayor and Government Palace in Central Lima. Photo by Tony Dunnell.
Central Lima
Central Lima, known as Centro de Lima or Cercado de Lima in Spanish, is the historic downtown area of Lima. The district is home to the official Historic Center of Lima, as recognized by UNESCO and designated a World Heritage Site.
Due to safety concerns, Central Lima still has a poor reputation as a place for foreign tourists to stay, and many locals and guide books still warn of setting up base in the historic district. Statistically, Central Lima is one of the most dangerous areas of Lima. In reality, it's really not that bad — as long as you stay in the safer and more touristy parts of the district.
Some streets and neighborhoods get sketchy at night, especially around the edges of the historic center, so don't stray too far after dark. Central Lima shares borders with a few districts that aren't safe, so grab a map and stay within the reasonably well-policed touristy areas.
If you do decide to stay in Central Lima, you'll be steps away from numerous attractions and surrounded by impressive colonial architecture. The elegant Plaza Mayor is the historic core of Lima and colonial Peru, and is home to the Government Palace, Lima Cathedral and other important buildings. The surrounding streets are full of colonial casas and churches, including the Convent of San Francisco with its bone-strewn catacombs.
Just walking around the historic center is a pleasure. You can stop off at affordable cafes and restaurants, and some of the city's oldest bars. The Museum of the Inquisition is free and morbidly fun (note: the Museum of the Inquisition is currently closed for renovations), while Barrio Chino — Lima's small Chinatown neighborhood — is a great place to stroll and eat. You'll also be close to the Parque de la Exposición, a large park that's home to art galleries, museums and the Magic Water Circuit.
Accommodation options aren't as good or as varied as in Miraflores, but there are enough good hostels and hotels to provide some choice.
Overall, Central Lima is a great place to stay in Lima for history buffs, architecture aficionados and street photographers who don't necessarily want the nightlife of Barranco or the trendy restaurants of Miraflores and San Isidro.
Find and book hostels and hotels in Central Lima with Booking.com.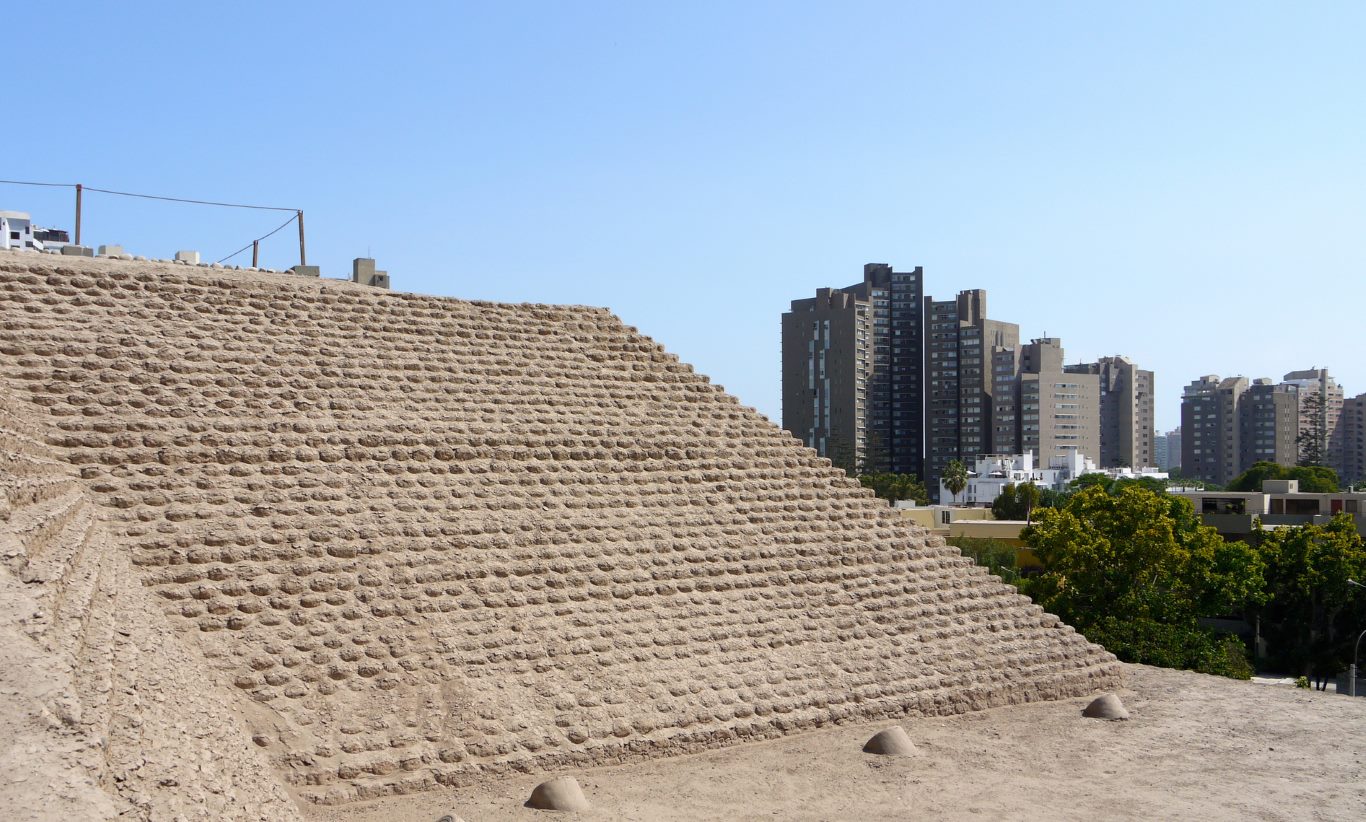 San Isidro
San Isidro is one of Lima's most upscale residential districts and the city's financial center. In other words, it's expensive. If you're a yuppie or a social climber, this is where you'll probably want to live.
That might sound horrific to some of you, but San Isidro has its charms. At the same time, it's more suited to "flashpackers" and well-healed tourists than budget backpackers. Cheap hostels are scarce, but swank hotels are common.
If you decide to stay in San Isidro, you'll be close to some of the city's best restaurants, art galleries and chic cafes. The district is also known for its parks, most notably the Bosque del Olivar with its colonial-era olive trees. It's also home to two archaeological sites, Huaca Huallamarca and Huaca Santa Cruz, and a bunch of monuments to Peru's historic figures.
Posh travelers will feel right at home in San Isidro. Cocktail bars provide plenty of classic pisco cocktails, and pricey boutique clothing stores have all the basics. Exclusive social clubs like the Real Club de Lima and the British-founded Phoenix Club provide safe spaces in which to mingle beyond the reach of the rabble. And, of course, there's Lima Golf Club — because what would one do without a round of golf now and then (if you've got the cash to play at an exclusive course like this one)?
San Isidro is the safest district in Lima. Whether you want to stay there or not probably depends on your budget and whether you prefer caviar to churros.
Find and book hostels and hotels in San Isidro with Booking.com.
Inside the historic Taverna Quierolo in Pueblo Libre, Lima. Photo by Taverna Quierolo.
Pueblo Libre
If San Isidro sounds a little too upscale but you still want to stay in a relaxed residential district, then Pueblo Libre could be just the place.
The Pueblo Libre district has the most parks in Lima, and also has a strong sense of history. The famous liberator Simón Bolívar lived in Pueblo Libre, and his colonial mansion now houses the National Museum of Archaeology, Anthropology and History of Peru. The district is also home to the acclaimed Larco Museum, which contains one of the largest collections of pre-Columbian artifacts in Peru (including erotic pottery representing every sex act you can imagine, and some you probably can't). Another famous attraction is La Cruz del Viajero (The Cross of the Traveler), a cross placed by Franciscan monks in 1672.
Pueblo Libre is more affordable than San Isidro but also has a fine selection of restaurants. Some of the best restaurants for traditional comida criolla are located in Pueblo Libre, as well as some of the city's oldest restaurants — most notably the Taverna Quierolo, which opened its doors in 1880.
Pueblo Libre is a sleepy district in comparison to fast-paced neighborhoods like Central Lima and Miraflores. But if you're looking to relax and take in the sights and sounds of a less touristy district, then you'll be perfectly happy in Pueblo Libre.
Find and book hostels and hotels in Pueblo Libre with Booking.com.
Map of the 5 Best Districts in Lima, Peru
On the map below you can see the five recommended districts in Lima. From north to south: Central Lima, Pueblo Libre, San Isidro, Miraflores, and Barranco.
Central Lima
Central Lima
Pueblo Libre
Pueblo Libre
Where to Stay in Lima for Renting, Surfing and Layovers
The five Lima districts above are all great options for tourists. They're good for long-term stays, too, if you can afford the rent. Districts that aren't necessarily great for tourists but could be good for renting include places like San Borja, Surco, Jesús María, Lince and Magdalena del Mar.
Fore surfing, Miraflores, Barranco and Chorrillos are popular bases year-round simply because they're central and on the coast, with decent surf spots nearby. Serious surfers (and beachgoers when the sun's shining) head further south to districts on the fringes of the city, including Punta Hermosa, Punta Negra and San Bartolo.
If you're flying into Lima for a layover, you might want to stay in a hostel or hotel near Lima airport. In that case, you'll find yourself in Callao — not a district, but a city in its own right and part of the wider Lima Metropolitan Area. Callao isn't the nicest or safest of cities, but there are some decent places to sleep before flying out.