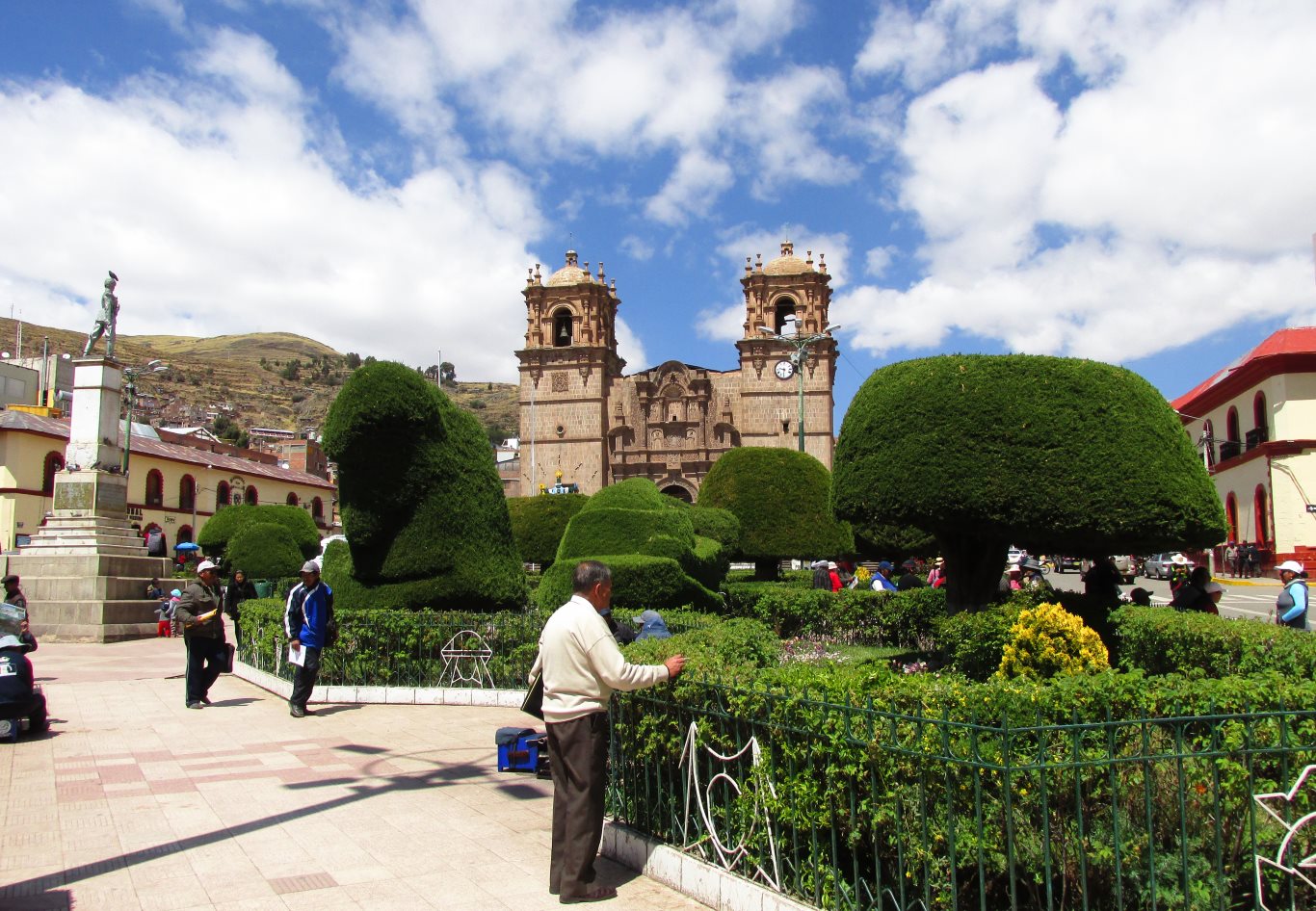 On a bright and sunny day, Puno's Plaza de Armas is actually quite pretty. Photo by Tony Dunnell.
Maybe it's the thin air. Maybe it's all the bare red-brick walls. Or maybe Puno just can't compete aesthetically with the beautiful silvery lake on whose shores the city sits.
Whatever it is, Puno isn't the prettiest of places. It has plenty of soul, heart and culture, but it just doesn't cut it visually. And the pizza, which for some reason is sold almost everywhere, sucks.
This lack of urban charm is the reason why many tourists decide to stay on the Bolivian side of Lake Titicaca. Specifically, they stay at the more picturesque Bolivian town of Copacabana, some 65 miles from Puno as the Andean gull flies (or paddles, in the case of the Titicaca flightless grebe).
But Puno does have some major positives as a base for exploring Lake Titicaca and other sights in the Puno Region. The floating islands of the Uros people lie within easy reach, as do the stunningly beautiful and culturally fascinating islands of Taquile and Amantaní. The impressive pre-Inca archaeological site of Sillustani is also an easy day trip from Puno.
If you prefer a more hip, touristy and far smaller base on the banks of Lake Titicaca, then head to Copacabana. But before you head straight there with all the other backpackers, give Puno some thought. It's not known as the "Folkloric Capital of Peru" for nothing…
Note: Puno is one of the highest cities in Peru, at an altitude of 12,556 feet above sea level (3,830 m). If you're heading to Puno directly from a low altitude city (Lima, for example), you should take at least 24 hours to acclimatize.
All photos by Tony Dunnell.
Things to Do in Puno
You won't find much to do in Puno itself. Really, it's all about Lake Titicaca, a truly stunning natural attraction whose charm is impossible to ignore, whatever the weather. But Puno is also a well situated base for exploring other sites outside the city, including traditional villages and the impressive archaeological site of Sillustani.
The Floating Islands of the Uros People — This is Lake Titicaca's top tourist attraction. To be honest, it's an almighty tourist trap, which can detract from the overall experience. But there's no doubting the unique and fascinating nature of these floating reed islands, continuously rebuilt and maintained by the indigenous Uros people over hundreds of years. Boats leave frequently from the dock in Puno.
Sillustani — This imposing pre-Inca burial ground, with its funerary towers and sweeping views of Lake Umayo and the puna grasslands, is well worth a visit. It's about an hour from Puno and easily reachable from the city with an inexpensive tour. It's worth going with a guide, and take a few layers in case it gets cold. You might stop on the way for a traditional breakfast at one of the rustic farm houses. This is where I first ate clay with chuño potatoes, which I wrote about for Vice.​
Isla Taquile and Isla Amantaní — These two emerald green islands rise up out of Lake Titicaca about 23 miles from Puno. Both have distinct populations of indigenous Quechua speakers, many of whom are engaged in agriculture, fishing or weaving. You can visit both islands by boat (private/tour or public) as a day trip, or you can stay overnight in guesthouses. Both islands offer homestays, too. You can also kayak to the islands (see below).
Kayaking — Kayaking on Lake Titicaca is a beautiful experience, from the crystal clear waters near the shore to the choppy depths further out. You can kayak on Lake Titicaca with the Titikayak project, a community initiative that works alongside the Explorandes trekking and tour agency. The project is based in the picturesque village of Llachon on the tip of the main peninsular northeast of Puno. From here, you can kayak to Isla Taquile or Isla Amantaní, where you can choose to stay the night. I did this in 2016, and highly recommend it.
Llachon and other villages around Puno — These high plateau villages are dripping with culture and traditions, and you could easily spend a fascinating week just touring around and spending the night here and there. Llachon, where the Titikayak project is based, is a stunning spot and worth visiting even if you don't want to go kayaking.
Condor Lookout Point (Mirador El Condor/Mirador de Kuntur Wasi) — If you're looking for something to do back in Puno, walk up from the Plaza de Armas to the mirador (lookout point), know as Mirador El Condor or Mirador de Kuntur Wasi. It's not far but the high altitude makes it a tough slog at times (you can take a taxi if you like). The views from the top are impressive.
Museo Naval — Puno's tiny naval museum is worth a visit of you enjoy naval history. The museum contains a few model ships, including two models of British-built ships ordered specifically for use on Lake Titicaca: the Yavari and Yapura. Other items include large shell cases, ship's wheels, antique engine order telegraphs and pressure gauges. Admiral Miguel Grau, Peru's greatest naval hero, also features heavily. Corner of Avenida El Sol and Titicaca (nine blocks from Puno's Plaza de Armas as you head east to the bay. Opening hours are Monday to Friday from 8:30 a.m. to noon and 2:30 p.m. to 5 p.m. Free entrance, but there is a box for donations.
The view across Lake Umayo from the pre-Inca burial site of Sillustani, near Puno. Photo by Tony Dunnell.
Where to Stay in Puno
Puno does OK for budget accommodation options, kind of fails for decent midrange hotels, and then gets seriously swanky when it comes to the luxury end. I'll start with some hostels and then ramp it up to the top-end hotels.
Pacha Hostel — This is the best hostel I've stayed at in Puno. Clean, comfortable and with friendly staff. Good location, too. Three- and four-bed dorms start at about S/ 30 per person. Lima 106.
Marlon's House Puno — This place used to be a hotel, which explains the layout: Multiple floors with large rooms, big communal areas, and some impressive views across Puno from the rooftop area. Unless it's really busy, you might struggle to meet other backpackers due to the size of the place, but the staff is friendly and always up for a chat. Not as central as Pacha, but has a good breakfast. Dorms from S/ 30 per person, private rooms starting at S/ 60. Lambayeque 144. www.marlonshouse.com/marlons-house-puno
Libertador Lake Titicaca — Located on the private Esteves Island in the bay of Puno, this is the place you pass when you take the boat to the floating islands. It looks a bit like a beached cruise ship from a distance, but don't let that fool you: This is luxury from lake shore to lamp shade. www.libertador.com.pe
Sonesta Posadas del Inca Lake Titicaca Puno — Another luxury option on the lake shore, with stunning views and world-class service. www.sonesta.com
Titilaka — This famous lodge has 18 sophisticated lake-facing rooms on four acres of grounds, with two private beaches, all on a private peninsula jutting out into Lake Titicaca. Whether you're looking for great gastronomy, closeness to nature, or just a modern slice of luxury on the lake, Titilaka ticks all the boxes. titilaka.pe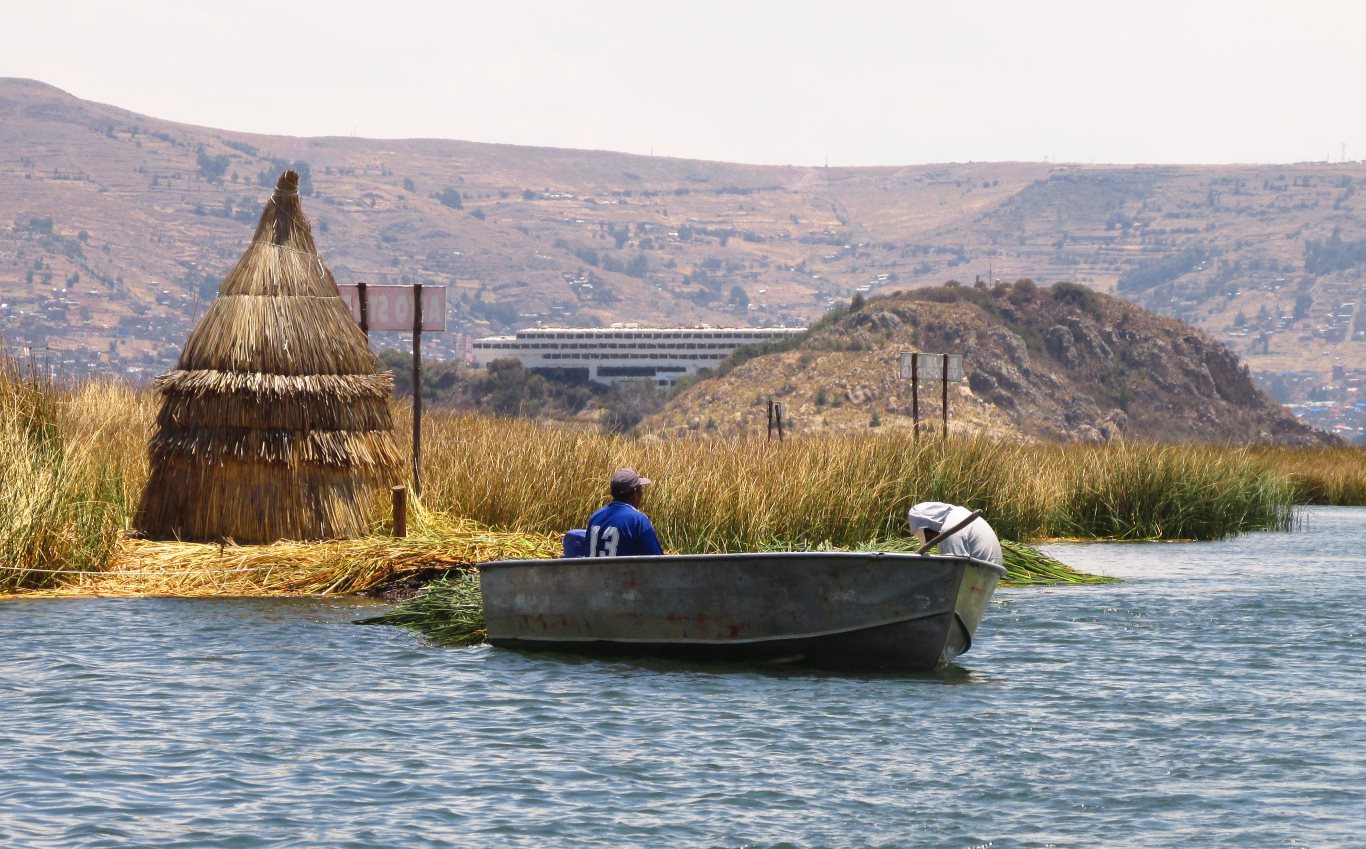 Traditional and contemporary: Two boatmen sit in front of an Uros reed island, with the luxury Hotel Puno Libertador Lake Titicaca in the background. Photo Tony Dunnell.
Restaurants in Puno
Puno's restaurateurs have a strange obsession with pizza. It's everywhere. I guess at some point someone decided that foreign tourists only want to eat pizza, and then everyone jumped on the bandwagon, and so was born a city full of half-assed pizzerias (the same thing happened in Aguas Calientes). For something more memorable, try one of the following:
La Table del' Inca — Probably the best restaurant in Puno, and definitely the most sophisticated, La Table del' Inca is a French-owned restaurant selling French-Peruvian fusion. In Puno. Random, really. But the food is excellent. A three-course set menu, including a glass of wine, costs S/ 80 — and it's well worth it. Ancash 239. Facebook page
La Estancia Grill — This is an old-school no-nonsense restaurant selling big plates at reasonable prices. The pork at La Estancia is divine; the roast suckling pig is heavenly. You'll find plenty of other options on the menu, including anticuchos, cuy (guinea pig), alpaca, trout, pork chops, soups, omelets and pasta dishes. They also do cheap pisco sours. Perfect. Libertad 137.
Mojsa Restaurant — A popular place on Puno's main square. The food isn't as good as you'll find at La Table del' Inca or Estancia Grill, but it's a good spot for lunch on the balcony overlooking the square. Lima 635 (second floor). mojsarestaurant.com
Inca Bar — A tourist-friendly place on the main restaurant strip, with a good lunchtime menú. À la carte options include sandwiches, curry, orange Titicaca trout and vegetable stir fry. There's also a happy hour for drinks. Lima 348.
Loving Hut Vegan — The best place in Puno for vegetarians and vegans. Pasaje Jose Domingo Choquehuanca 188. www.lovinghut.com/pe/
Nightlife in Puno
Honestly, I have no idea what people do for nightlife in Puno. I've been to a few bars in Puno, but found nothing memorable apart from Pacha Mixology, which was kind of interesting.
I decided to ask a Puno resident, Florent Derym, for some more nightlife recommendations. Florent is the owner and manager of La Table del' Inca (see restaurants above) and will soon be opening The Inca Sauna (Jr. Moquegua 411, Puno), a luxury spa with sauna, jacuzzi, hydrotherapy showers, professional massages and more. Here's what Florent says about bars and clubs in Puno:
"Well, in Puno tourists only go out in bars and local people only go out in nightclubs — it's a bit weird. The best nightclub in Puno — on a long list of only two — is named Domino [Jr. Libertad 443]; it's one block from the pedestrian-only Jr. Lima. It plays mostly cumbia and traditional songs from the Puno region.
"For bars, there's Ecco's [Pasaje Graú 137], which has concerts on weekends and two pool tables. Just in front is Kamizaraky [Grau 158], a kind of lounge bar. Positive Bar on Jr. Lima has a reggae atmosphere. And close to that is Pacha Mixology, a bar with a modern ambiance and molecular cocktails.
"My favorite bar is the Cafe Bar de la Casa del Corregidor [website], which has a nice "ranch atmosphere" and they do tapas from 4 p.m. It's a new addition [to the colonial Casa de Corregidor building] and they've already had some great parties with a mix of people from everywhere"
Getting to and Around Puno
Puno By Air
Flying is the quickest and easiest way to get to Puno, although you have to land in Juliaca, a fairly uninspiring city about 24 miles (39 km) north of Puno. You'll find colectivo vans at the airport, which can take you straight to Puno; it takes about 50 minutes and costs around S/ 15. A regular taxi from Juliaca Airport to Puno can cost S/60 to S/ 70 or more.
Juliaca Airport, and by extension Puno, has direct flights to Lima and Cusco (LAN seems to have the most consistent schedule, but beware of its increased prices for foreigners).
Puno By Bus
The bus from Cusco to Puno and vice versa takes between six and seven hours, with departures normally in the morning (at about 8 a.m.) and at night (at about 10 p.m.). Not all of Peru's major bus companies run along this route, but Cruz del Sur does, which is a good option. A regular ticket with Cruz del Sur costs about S/ 65 (US$20).
Regular buses between Puno and Arequipa take about five to six hours and cost anywhere between S/ 30 and S/ 60. Cruz del Sur and Civa are good options along this route.
A bus all the way from Lima to Puno takes more than 20 hours.
Alternatively, you can take a tourist bus service such as Inka Express and 4M Express between Puno and Cusco, and Puno and Arequipa. They cost more, but stop off in various places along the route for a few photo opportunities. There's also Peru Hop, the hop-on hop-off service, which runs along both routes out of Puno.
Puno By Train
If you're a train fan with some cash to spare — or you just like the finer things in life — then take PeruRail's Andean Explorer train from Cusco to Puno or vice versa. It's a luxury experience including gourmet meals in elegant dining cars and glasses of wine from the open-air observatory car. Add to this the amazing scenery, and it's no surprise that the Andean Explorer is considered one of the finest train journeys in the world.
It costs about US$350 and takes 10 and a half hours. The Andean Explorer runs between Cusco and Puno three or four times each week.
Getting Around in Puno
Central Puno is easy enough to explore on foot, and you won't have many reasons to stroll further afield unless you want to walk up to the mirador or down to the dock, both of which are doable on foot.
Alternatively, you can get around faster in a small taxi or mototaxi. Or, just for fun more than anything else, hop on one of the odd-looking pedal-power tricycle contraptions that scoot around town.
Puno can be a drab city, but the local people — and their tricycle transport — always add a welcome dash of color. Photo by Tony Dunnell.
Safety in Puno
Puno is a fairly safe city. Exercise normal safety precautions and you should be fine. Puno is prone to strikes and protests, so be a little more cautious if you see any large-scale demonstrations taking place, as they have been known to get tense and occasionally combative.
Internet in Puno
The internet in Puno seems about average by Peruvian internet standards — not too fast but not unbearably slow, either. Most good hostels and hotels have Wi-Fi.
Weather in Puno
Puno's climate is highly influenced by its high altitude. It rarely gets particularly warm, and can get bitterly cold: nighttime temperatures in the winter months (June to August) usually drop well below 0°C. These months tend to be very dry, with the most rainfall in January and February.
Due to the high altitude, the sun's rays are particular fierce in this region. Always protect yourself against sunburn, especially if you're out on the lake (you should carry sunglasses when you're out on the water, to protect against the glare).
Festivals and Events in Puno
Puno is known as the Folkloric Capital of Peru due to its rich cultural traditions and seemingly endless festivals and parades. Some of the most notable annual festivals and events in Puno include:
Bajada de los Reyes Magos — January 6: The Christian festival of Epiphany is celebrated with the bajada de los reyes, in which the nativity scenes from the previous Christmas are dismantled and stored away for next year. Street parades, processions and alasitas markets also take place in Puno on January 6 and 7.
Pago a la Tierra (Pachamama) Festival — January 18, Isla Amantaní: A "payment to the earth" on Amantaní Island in honor of Pachamama, the Earth Mother.
Virgen de la Candelaria Festival — first half of February: This 18-day festival is the largest and most colorful celebration in Puno, and one of the biggest in Peru.
Fiesta Patronal de San Juan de Dios — March 8: A day in honor of San Juan, the patron saint of Puno. The image of the saint is carried through the streets of the city, with live music, fireworks and gastronomic fairs throughout the day.
Semana Santa — movable feast, March and/or April: Holy Week is big in Puno.
All Saints' Day and All Souls' Day (Día de Todos los Santos and Día de los Difuntos) — November 1 and 2: Another national event that's particularly important in Puno.
Anniversary of Puno — November 4: Parties, parades, fireworks and gastronomic fairs, with the festivities continuing for at least a week. Normally includes a reenactment of the Inca origin myth, with actors portraying Manco Capac and Mama Ocllo as they rise up from Lake Titicaca.
Help Expand This Puno Travel Guide
If you have additional information or extra recommendations to help expand and improve this Puno travel guide, then don't hesitate to leave a comment below. All opinions and points of view are more than welcome. Thanks!