Nearing sunset at the floating restaurant Al Frío y Al Fuego in Iquitos, Peru (photo by Tony Dunnell)
Iquitos is not like any other city in Peru.
It's hot and humid like a typical jungle town. And it's full of motorbikes and mototaxis, another classic attribute of a city in the Peruvian Amazon. The locals are happy despite the heat; they like cold beer and they like to laugh loudly. Classic Peruvian jungle.
But its geographical isolation has given rise to a unique feel and function, a sense of being in a large and established outpost on the extreme edge of regular life.
Iquitos is the largest city in the world that can't be reached by road, only by river and air. It's a three- or four-day boat ride to the rest of Peru, either southwest to Yurimaguas or south to Pucallpa. Further east, meanwhile, lie 900 miles of dense jungle until Manaus in Brazil, and a further 800 miles thereafter to the city of Belém at the mouth of the Amazon River.
Before the Old World came crashing into the New, the region where Iquitos now sits was home to nomadic Amerindian hunter-gatherers, people whose lives were tied inextricably to the jungle and its rivers. Then, in the mid-1600s, Jesuit missionaries began to arrive, bringing their brand of Christianity and foisting it upon the native population, who they placed in reducciones or Missions. By the 1730s, these Missions spread along the Marañon, Napo and Amazon rivers, including what were known as the Iquitos Missions.
In 1864, the Peruvian government chose the village of Iquitos as the site for a strategic river port. Then the rubber boom hit, and the small port settlement underwent an incredible expansion. People and companies began to pour in from across the world, from poor young workers to wealthy European industrialists and entrepreneurs. It took an Englishman to bust the boom: In 1876, Sir Henry Alexander Wickham took 70,000 seeds from rubber trees in Brazil to the Royal Botanic Gardens of Kew in London. These same seeds then traveled to plantations in Ceylon, Malaya and other tropical destinations, bringing an end to the Amazonian rubber boom.
That's a lot of history in a short space of time. And Iquitos is all the more interesting for it. European mansions, faded but far from dilapidated, dot the streets, rubbing shoulders with traditional jungle markets. Modern cafes and restaurants have sprung up along the pretty riverside boulevard, not far from the simple stilted wooden homes of the largely poor Belén district, known, somewhat ironically, as the Venice of Iquitos.
Indigenous and colonial have mixed and metamorphosed in Iquitos. And now modern tourism brings in the international crowd, from carefully guided lines of package tourists who come to cruise the Amazon, to adventurous backpackers who want to explore Iquitos and maybe sign up for a budget expedition into the surrounding jungle.
It's a big old mix, that's for sure, and there's rarely a dull day in Iquitos, capital of the Loreto Region of Peru.
All photos by Tony Dunnell.
Things to Do in Iquitos
Apart from going on riverboat cruises and other jungle excursions, you'll find a reasonable amount of things to do in Iquitos and the surrounding area. Some of them can be done together, such as the Manatee Rescue Center, Quistacocha and maybe even the Amazon Golf Course, as they are all quite close to each other.
Belén Market – Perhaps the most interesting market in Peru (and a great place to try some weird Peruvian foods), Belén Market is a sprawling maze of fish stalls and vegetable stands, with local merchants selling all kinds of produce from across this isolated jungle region. You'll hear it's dangerous to venture in alone, and it's probably best to go with a friend, but don't be afraid of going solo – just keep a firm grip on your camera.
Amazon Rescue Center – Feeding a fat little baby manatee is a wonderful thing, especially when you know that your very presence is helping these orphans to survive. Carretera Iquitos-Nauta Km 4.5. Entrance S/ 20.
Quistacocha Zoo and Lake – Quistacocha is a popular spot for families, who come to eat lunch and swim in the lagoon. The zoo itself is underfunded and depressing. Carretera Iquitos-Nauta Km 6.5. Entrance S/ 3.
Pilpintuwasi Butterfly Farm and Animal Orphanage – Beautiful butterflies and other rescued animals make this a fine day trip (and a scenic boat ride to get there when the river is high). The volunteers who help run Pilpintuwasi seem quite knowledgeable, too. Padre Cocha, Iquitos. Entrance $5 (S/ 15).
The Amazon Golf Course – A round of golf in the Amazon Jungle? Hard to say no, really. Just check in advance if the course is in playable condition – as you can imagine, it can become overgrown quite quickly.
Iquitos General Cemetery – One of the most interesting cemeteries I've seen in Peru, thanks in part to the colorful tombs, the intriguing Jewish section and the presence of the grave of Carlos Fermín Fitzcarrald (a rubber baron whose exploits inspired the movie Fitzcarraldo). The Peruvian horror film, Cementario General, was also shot here.
The Casa Fitzcarraldo – The Casa Fitzcarraldo housed the cast of the epic film Fitzcarraldo and is now a hotel of sorts (see below). If the heat of Iquitos is getting you down, take the short ride to Casa Fitzcarraldo where you can use the picturesque pool, climb the tree house, and have a beer or two.
Museo de Barcos Historicos Ayapua – A small museum inside the riverboat Ayapua, which was built in Hamburg, Germany, in 1906. The artifacts on display are limited, but it's fun just to explore the boat for half an hour. Plaza Ramón Castilla. S/ 10.
Museo de Culturas Indígenas Amazónicas – Full of information and artifacts pertaining to different Amazonian cultures, this museum is worth a visit. But beware of pushy guides: I was followed around by a museum guide who became quite annoying, and who asked for a ridiculously large tip at the end of the "tour." Malecón Tarapacá 332. S/ 15.
Museo Amazónico – Located in a historic building along the riverside malecón, this museum is most notable for its 80 or so life-size fiberglass statues (painted to resemble bronze) representing members of various tribal groups from the Peruvian, Brazilian and Venezuelan Amazon region. Tarapacá 386; entrance S/.3.
Museo de Iquitos (MI) – The newest museum in Iquitos presents a fairly well-rounded view of the history of the city and the rubber boom, including old photos, models of riverboats, and various chronological diagrams. Good if you're interested in the history of Iquitos. Inside the Parque Zonal, block 12 of Jr. Yavarí. Free.
Pilpintuwasi Butterfly Farm
Museo de Barcos Historicos Ayapua
Museo de Culturas Indígenas Amazónicas
Where to Stay in Iquitos
Iquitos has hostels and hotels to suit all budgets, but the hostel scene seems slightly lacking, not in numbers – you'll find plenty – but in general quality.
Green Track Hostel – Green Track Hostel stands out for its dorms, which are good value at S/ 25. The private rooms, on the other hand, aren't such good value for money, and you might be better off elsewhere. It's also important to note that Green Track has rules and regulations (no smoking, noise to a minimum etc.) that are stringently enforced – good if you want to relax in a smoke-free environment, but not a place for partying. Ricardo Palma 516.
Hostal El Colibri – Hostal El Colibri is great for small groups and couples. There are no dorms, but the four-bed rooms are excellent value at S/ 80 (total, not per person). A spacious single room with Wi-Fi, private bathroom, fan and cable TV is a very reasonable S/ 50. Raymondi 200.
La Casa Fitzcarraldo – If the idea of an urban jungle oasis with ties to Mick Jagger, Werner Herzog and Klaus Kinski sounds like your kind of thing, then treat yourself to a stay at La Casa Fitzcarraldo. Or just pay a visit during the day to use the pool. You can read more about La Casa Fitzcarraldo here. Avenida La Marina 2153.
Samiria Jungle Hotel – This is not a hotel in the jungle, as the name suggests, but rather a large hotel about four blocks from the Plaza de Armas and a stone's throw from the riverfront boulevard. It's a modern hotel by Iquitos standards (reflected in the higher than normal price), with contemporary rooms and efficient service. The real highlight is the pool. Ricardo Palma 159.
Emperador Terraza Hotel – Perhaps the best value for money in Iquitos, especially if you get a balcony room (and you don't mind the traffic noise). With single and matrimonial rooms starting at S/ 100 and S/ 120 respectively (less out of season), it's hard to argue with the prices – and you can even upgrade and have a hot tub in your room. The staff is friendly and efficient, the rooms modern and comfortable, and it's just a block from the Plaza de Armas. Fitzcarrald 191.
Relaxing in the Amazon Bistro in Iquitos, Peru. Photo by Tony Dunnell.
The Best Restaurants in Iquitos
Some of my friends disagree with me on this, but I think Iquitos is a great city for food. Being such an isolated place, there's extra reliance on local produce from the jungle and the river, making the culinary scene particularly interesting. And it seems like most restaurants buy the bulk of their ingredients from Belén Market each morning.
La Mishquina – The young chefs at La Mishquina study at the nearby Emilio Romero ISTER Institute, the first school of gastronomy and culinary arts in Iquitos. The restaurant gives them firsthand experience, and their passion is displayed in the food. At around S/ 10, the lunchtime menú is excellent value. Próspero 507.
Restaurant Paulina – A simple, family-run restaurant with a great S/. 10 menú. Tacna 585.
Cebicheria El Rincon de Panchito – A tiny cevicheria with excellent food. Moore 257.
Amazon Bistro – Hip but not pretentious, warmly elegant without being stuffy, the Amazon Bistro is the perfect spot to relax along the riverfront boulevard with a frappucino or beef bourguignon. Malecón Tarapacá 268.
Dawn on the Amazon Cafe – Dawn on the Amazon was struck by tragedy when its owner, the popular and ever-welcoming Bill Grimes, died during torrential rains and heavy winds that struck Iquitos in September 2016. But the landmark cafe-restaurant still stands strong, and continues to serve excellent food. Malecón Maldonado 185.
Huasaí Restaurant – A good spot for lunch just half a block from the Plaza de Armas. Fitzcarrald 131.
Pizzería Chez Maggy Iquitos – It's not always easy to find decent pizza in Peru, but the Chez Maggy chain at least makes a respectable attempt with its authentic pizza oven. Raymondi 158.
Chef Paz – A great option for ceviche, tiraditos, pastas, Peruvian classics and even Japanese makis. Putumayo 468.
Ari's Burger — I don't recommend the food at this popular place on the square, but I do highly recommend it for its asaí (açaí) smoothies (S/ 5), which are damned addictive. Spend the extra S/ 2 for asaí with camu camu or guaraná. Próspero 127.
Chato's Burger – Chato's is my go-to place for late-night hunger pangs after one too many beers. It's not sophisticated in any possible way, but it does perfect food for drunken fools. Samanez Ocampo 140.
Al Frío y Al Fuego Restaurant – Few restaurants in Peru have such a charming location as Al Frío y Al Fuego, a floating restaurant reachable only by boat (from Avenida La Marina 134-B). It's expensive, but it's a proper dining experience.
A statue of Eliseo Reátegui Vásquez on the riverfront boulevard in Iquitos. Eliseo, who died in 2001, is known in Iquitos for two reasons: He was a proponent of Amazonian folk music with his band Los Solteritos. He also founded the Shambo ice cream and chupete company, a famous brand from the Peruvian Amazon. Photo by Tony Dunnell.
Nightlife in Iquitos
I mainly stuck to the bars in Iquitos rather than nightclubs, but there are some trendy clubs like Noa (Calle Fitzcarrald 298) if you feel like dancing. Also keep an eye open for outdoor musical events, which can attract a large crowd.
Bodega Bar Judith (CLOSED: I'm fairly sure this place is now closed, which is no great surprise to be honest) — This place is a true dive bar, not some hipster idea of a dive bar. It's a shithole, basically, but the beer's cheap and cold, it's centrally located, and it's frequented by weirdos. The service is terrible and you might well hate it. I kind of love it. Raymondi 262.
Harvard Bar — A great spot overlooking the river, with a dark but non unfriendly atmosphere. Great if you want a change from the bars along the boulevard. Down some steps at the river-facing end of Pevas (I think that's right; probably best to ask someone first).
The Yellow Rose of Texas — The American owner of this bar-restaurant is a controversial figure and seems to be roundly lambasted in Iquitos. But the bar itself is one of the most visually impressive in Peru, with every inch of wall space and ceiling covered in memorabilia, much of it US-oriented. It's well worth popping in for a beer, although the food is nothing special. Putumayo 174.
Various bars along the boulevard — The riverfront bulevar (boulevard) along Malecón Tarapacá is full of bars and restaurants. It gets pretty lively at night, especially at the weekend, with a mix of locals, tourists and Chilean hippies. The bars blur into one, especially after five beers, so just pick a table wherever you find one.
Getting to and Around Iquitos
As mentioned above, getting to Iquitos is by boat or by plane, with no overland options.
You can fly directly to Iquitos from Lima, Tarapoto and Pucallpa. All of Peru's largest domestic airlines — Star Perú, LATAM and Avianca — fly from Lima to Iquitos, sometimes landing in Tarapoto en route. Tickets normally cost between US$80 and $120.
You can catch a large and slow passenger boat to Iquitos from Yurimaguas or Pucallpa. The trip takes three to four days, with hammock space costing anywhere between S/ 60 to S/ 100, or S/ 150 to S/ 300 for a tiny cabin. Basic meals are included.
You can also take a lancha rápida — a smaller, faster boat — from Yurimaguas to Nauta (from where you take a bus to Iquitos) or vice versa. It takes about a day and costs between S/ 140 and S/ 200 (about $45 to $60). It's not comfortable, but it is quicker.
Getting around in Iquitos is by mototaxi or minibus. The buses are old and can be hot and cramped, but they get you to most of the attractions listed above. Passenger boats for short trips from the city can be found at the Bellavista Nanay Port about three miles north of the city center.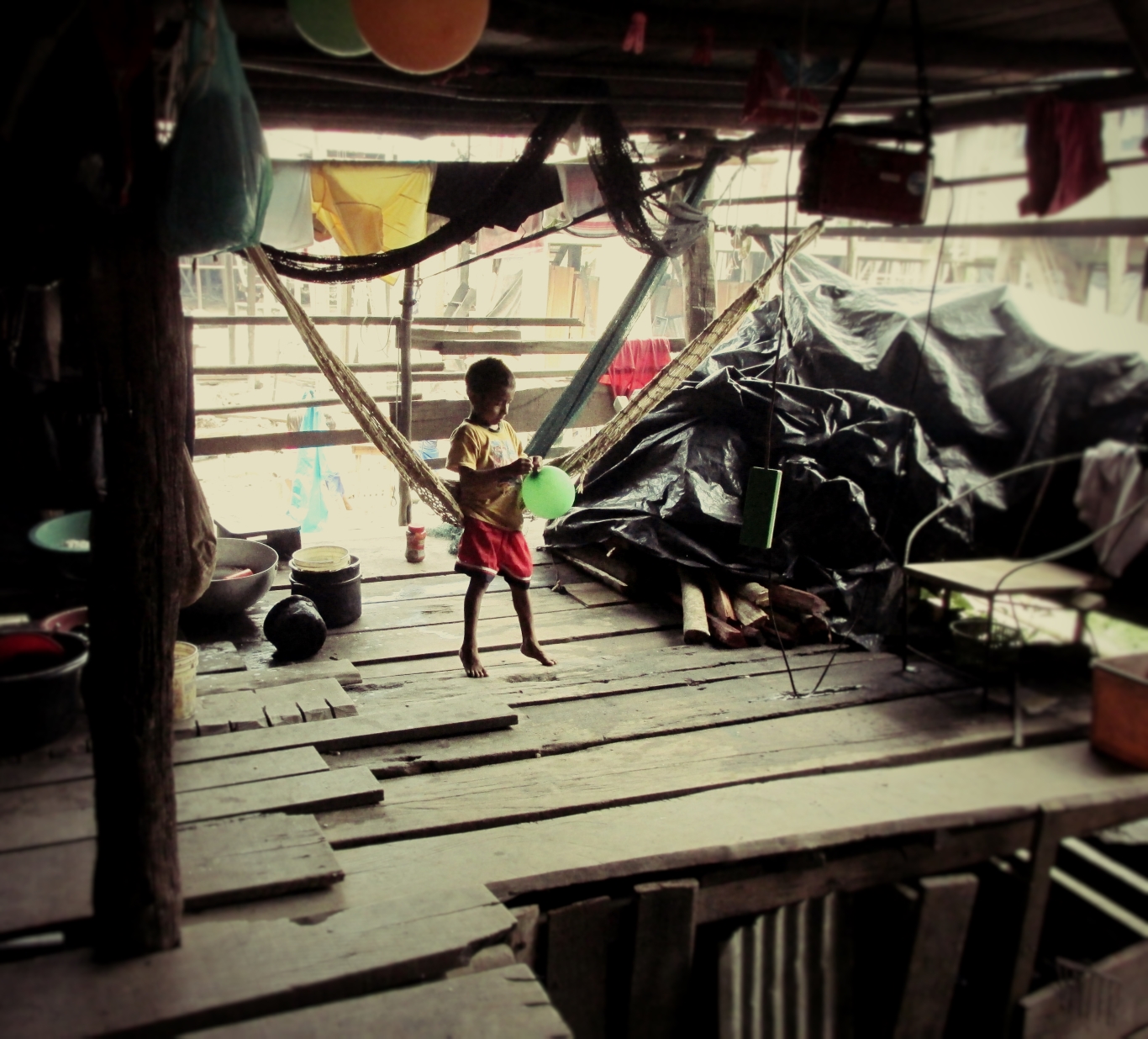 I took this photo when I went into the Belén district of Iquitos with a friend who was installing free water filters in poor households. Acrid smoke from an open fire drifted through the stilted home. The kid was friendly but shy.
Safety in Iquitos
The center of Iquitos is safe during the day and fairly secure at night, although it's best to walk around at night with a friend or two. Things can get sketchy further away from the center, especially at night, so best to take a taxi.
People will tell you not to walk around without a guide in the Belén district and Belén Market. I walked around Belén Market alone, with my camera, and didn't feel unsafe at all — apart from when I walked out of the extreme lower end of the market, where a couple of locals approached me and told me to be careful. As for the Belén district, you'll get much more out of it if you go with a guide who grew up there — and you'll be safer.
Internet in Iquitos
Slow, slow, slow. The internet in Iquitos is way better than it used to be, but it's still aggravatingly slow even by Peruvian internet standards. That's understandable, being a city in the middle of the Amazon Rainforest. Connections aren't entirely useless, but you'll find yourself cursing quite a lot of you're trying to get work done online.
Weather in Iquitos
The weather in Iquitos is hot, humid and hot. It's a tropical wet climate with an average temperature of about 27 °C (80.5 °F). The rainy season runs from November and ends in May, with March and April typically having the heaviest rains and highest humidity (the Amazon River reaches its highest levels in May). Less rain falls in July and August, although downpours are still common.
Major Festivals and Events in Iquitos
Anniversary of Iquitos — January 5: Plenty of parties and events, normally lasting a week.
Festival of San Juan — June 24: Always a big deal in the Peruvian jungle.
Help Expand this Iquitos Travel Guide
If you have any information or recommendations to add to this Iquitos travel guide, feel free to leave a comment below. All opinions are more than welcome. Thanks!