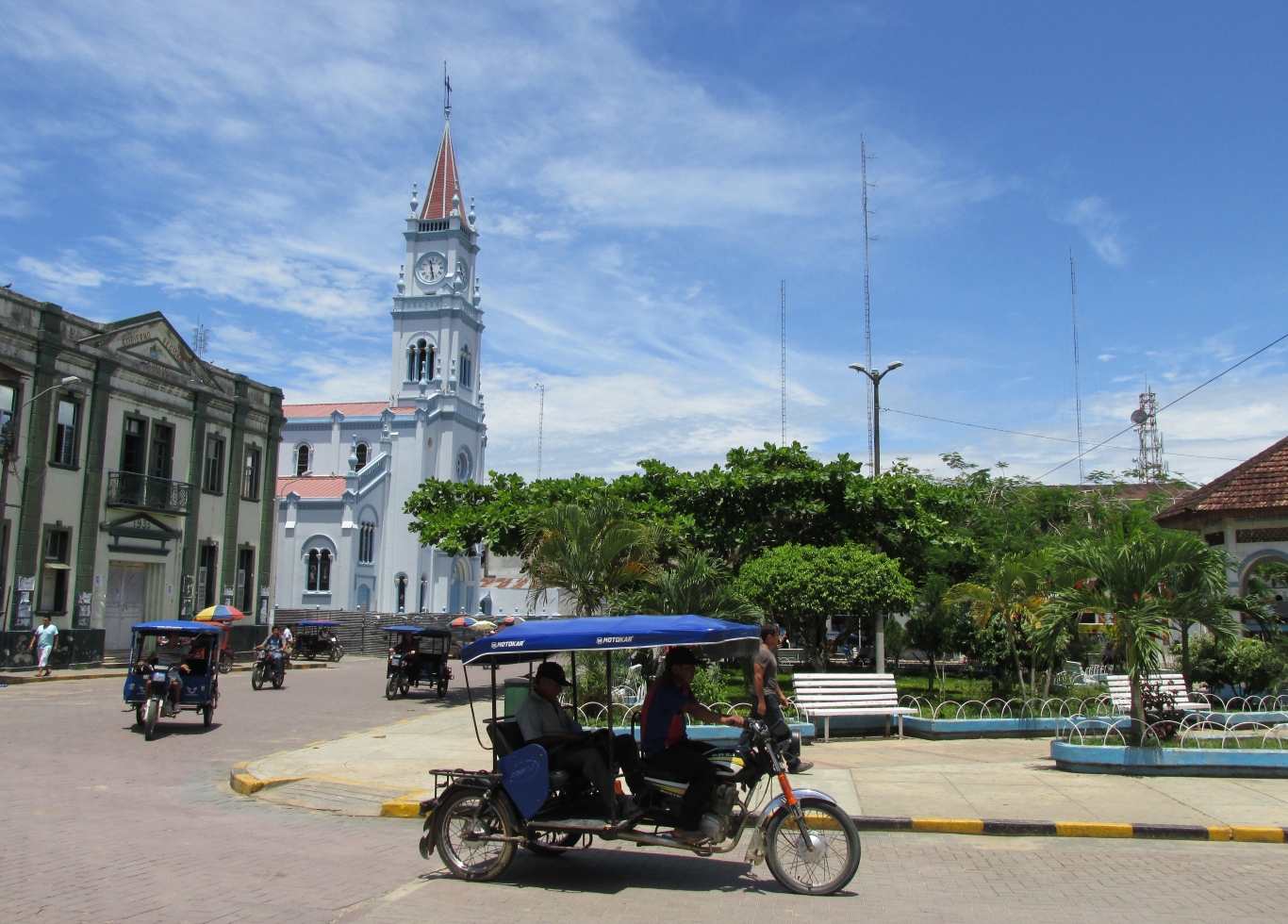 Welcome to the end of the road! Yurimaguas is literally the end of the road in
northern Peru
, with no further highways heading east into the jungle, just the long and meandering waterways of the Amazon and its tributaries.
Few tourists stick around in Yurimaguas. Those that pass through are typically jumping on the next boat out for the three-day trip down the Río Huallaga to the Amazon and onto Iquitos. Others use Yurimaguas as a gateway to the Pacaya-Samiria National Reserve, the largest protected area in Peru.
But if you do stick around for a day or two, you'll find Yurimaguas to be a friendly, fairly relaxed place to visit. But don't expect too much in the way of entertainment, fine dining or fantastic places to stay.
All photos by Tony Dunnell.
Things to Do in Yurimaguas
If, like me, you enjoy strolling around jungle port towns, then you'll be happy exploring Yurimaguas for a day. Beyond that, you'll be hard pressed to find many outstanding sights or activities in or near the city.
The small Plaza de Armas is a pretty spot to sit and watch the world go by. On the westernmost corner you'll see the sky-blue Virgen de las Nieves Cathedral, a Neo-Gothic structure built between 1928 and 1931. It was boarded up for renovations in 2011, and the project ran into funding problems, bureaucratic black holes and a sprinkling of corruption. It was finally reopened in 2015.
Yurimaguas' traditional street market spreads across a few blocks near the main square. And, like any jungle market, it's an interesting place to explore — just be prepared for some uneasy spectacles, like piles of live turtles (for pets and for the pot) and the occasional (and illegal) tigrillo or jaguar skin. The market is a good place to stock up on supplies for your boat trip to Iquitos, including the requisite Tupperware container, knife and fork that you'll need for your onboard meals.
If you're yearning for some jungle adventure, you can try to arrange a daytrip with a local agency to Lago Cuipari, a massive oxbow lake that's great for wildlife spotting. Further afield and less accessible is the Piedra de Cumpanama, a massive rock decorated with beautiful deep-hewn petroglyphs of uncertain age. To get there, you first have to reach the isolated village of Balsapuerto, followed by a six-hour trek, round trip.
To enter the Pacaya-Samiria National Reserve (which can also be done from Iquitos), you first need to head downriver to Lagunas. You can arrange tours into the reserve in Lagunas, or organize the trip with a guide or agency in Yurimaguas.
Where to Stay in Yurimaguas
Accommodation is limited in Yurimaguas. You'll find a bunch of nondescript hospedajes (guesthouses), a spattering of dull hotels, and a handful of hostels that aren't much like backpacker hostels at all.
If you've already booked a cabin or hammock space on the boat to Iquitos, then you can sleep there on the boat for free until the boat leaves (which could be the next day, or two days, or three days if you're really unlucky).
Otherwise, head to what is by far the best hotel in Yurimaguas (and the best restaurant, see below). The Rio Huallaga Hotel (Calle Arica 111) is head and shoulders above anything else in Yurimaguas, but it's not cheap by local standards. Rooms range from about S/ 180 to S/ 335 ($55 to $100), but it's worth the cost if you want to make the most of your time in Yurimaguas — and if your budget can handle it.
Restaurants in Yurimaguas
I asked a few locals for restaurant recommendations in Yurimaguas, and received no enthusiastic suggestions whatsoever. And while there are plenty of cheap restaurants dotted around, and street grills at night, the only two places of note I found were:
The Rio Huallaga Hotel Restaurant (Calle Arica 111) — Great food with inspiring views across the Río Huallaga and the jungle beyond. If you're on a budget, go for the excellent set lunch menú option for a very reasonable S/.10. À la carte includes local, national and international options. I ordered the picante de mariscos for S/ 25 ($8) and it was top notch.
Mil Sabores (www.facebook.com/milsaborescafeyresto) — A solid café-restaurant offering good food at reasonable prices.
Nightlife in Yurimaguas
Um, well, you could always have an early night. OK, that's harsh, but there's not much nightlife in Yurimaguas. There are small bars and bodegas selling cheap beer throughout town, including near the Plaza de Armas. There's also a bar scene of sorts around Plaza Moralillos, about 10 blocks northwest of the main square.
One well-established drinking spot is Benito's Bar (Mariscal Castilla 227) about two blocks north of the Plaza de Armas, which has pool tables.
Getting to and Around Yurimaguas
Not many options here. It's either a trip northeast by boat down the Huallaga to the Amazon and onto Iquitos, or the paved road southwest to Tarapoto. There are no regular scheduled flights to the small airport in Yurimaguas (Aeropuerto Moisés Benzaquen Rengifo).
Yurimaguas to Iquitos by Boat
Large passenger boats — which also carry plenty of cargo — run between Yurimaguas and Iquitos on an almost daily basis, although the schedule is "flexible" rather than entirely fixed. The boat journey typically takes about three days, although it could end up closer to four (especially going up river from Iquitos to Yurimaguas). Hammock space normally costs between S/ 60 and S/ 100, while a cabin holds two and costs around S/ 150 per person. You can arrange boat passage with agencies in the center of Yurimaguas or just head down to the port and buy your ticket directly.
Smaller, faster boats (lanchas) are available between Yurimaguas and Iquitos, but cost significantly more. You can arrange a lancha with boat companies in Yurimaguas.
If you just want to travel from Yurimaguas to Lagunas (for Pacaya-Samiria National Reserve), you can take a passenger boat and ask to get off at Lagunas. Or you can hire a private lancha.
Yurimaguas to Tarapoto by Bus or Car
The bus or car ride between Yurimaguas and Tarapoto takes about two hours and costs between S/ 10 and S/ 20 per person. The first half is beautiful but full of twists and turns through the jungle-covered mountains. I've rarely been car sick in my life, but this trip always tests my stomach. Best to make this journey without a hangover. Things level out at around the half-way point and the drive is much smoother. If you're in the area during the rainy season (January to March, roughly), be prepared for the road to be temporarily blocked by landslides. Chances are you'll be fine, but most years the road is blocked for a day or two at some point.
Getting Around Yurimaguas
It's all motorbikes and mototaxis in Yurimaguas. You can get anywhere in the city for just a few soles by mototaxi.