27 Tips for Traveling in Peru on a Budget
Despite a surge in luxury tourism over the last decade or so, it's still entirely possible to go traveling in Peru on a budget. Peru remains backpacker-friendly, with cheap places to eat, cheap places to sleep, and public transport that — while not the cheapest in the world — allows you to travel around without breaking the bank.
To help you on your way, here are all my budget travel tips for Peru, assembled over eight years of traveling throughout the country. If you have any tips you'd like to add, go ahead and leave a comment at the end of the article.
Make the Most of Cheap Food in Peru
You can always eat for cheap in Peru. Lunchtime menús are a budget traveler's best friend in Peru, while cheap and tasty street food is never far away. Chifas — Peruvian-Cantonese restaurants — sell heaped plates of food that will keep you going all day. And you can always cook your own food in your hostel kitchen (or live off ham and cheese sandwiches). Then there's the free breakfast included at most hotels and hostels. Sometimes it's just bread and jam, but better hostels will also have fruit, cereal, fresh fruit juices and coffee — worth waking up for.
Get to Know the Local Currency and Avoid Counterfeit Cash
Get comfortable with the Peruvian sol (S/) as soon as you can. Know how much you're spending and get to know the look and feel of the notes and coins. Peru is one of the world's leading producers of counterfeit money — soles and dollars — so fake cash is a problem, especially in Lima and other major cities in Peru.
Don't Be Suckered By Scams or Sob Stories
Distraction scams, splatter scams, fake police, money switches, getting short changed… there are plenty of scams to avoid in Peru. You don't need to be paranoid as that can be counter-productive, but keep your awareness levels up. And don't place too much trust in fellow backpackers or expats either. If you meet a tourist or expat asking for money and claiming he or she has been robbed, your alarm bells should be ringing like crazy.
Don't Get Left with the Bar Bill
Before you get all drunk and happy-holiday-care-free with the world, ask yourself if you can afford paying for the drinks, the snacks, for everything. Because, believe me, that can happen on a regular basis if you don't make things clear from the outset. Locals and other tourists will happily join in with all the revelry, but they might disappear before the bill arrives. If you're a guy, it's worth knowing that men are expected to pay for the drinks of Peruvian women — and that can include not just your date (or potential date), but all her female friends, too.
Don't Tip Too Much or Too Often
Peru isn't a big tipping culture, so don't feel the need to tip taxi drivers, delivery boys, or even every waitress. Read more about tipping in Peru to avoid unnecessary tips and over tipping.
Always Agree on the Price in Advance
Whenever possible, always set the price in advance. This is particularly important with taxi drivers, but can also apply to private drivers, guides and many other services. If you don't agree in advance, you lose a lot of negotiating power when you have to argue for a lower price after the event.
Protect Your Bags and Valuables with Ninja-Like Awareness
I repeat: ninja-like awareness. Opportunistic theft is rife in Peru. Leave something unattended and it will disappear. Don't leave your laptop, camera or smartphone lying around for even a second, especially not in a public place like a café, bar or restaurant. This isn't a uniquely Peruvian thing by any stretch of the imagination, but don't give potential thieves an inch. Watch out for pickpockets too, especially in crowded streets or at festivals — anywhere with lots of people. Any type of theft can quickly put a dent in your Peru travel budget.
Lay Off the Booze (Occasionally)
Drinking every night gets expensive, fast. If you're coming from the USA, then you might be making the most of the lower legal drinking age in Peru. But if you're traveling in Peru on a budget and you just can't stop overspending, there's a good chance the bars are to blame. If that's the case, try to have a few nights off each week and do something else instead. Like, I don't know, eat ice-cream? Go see a play?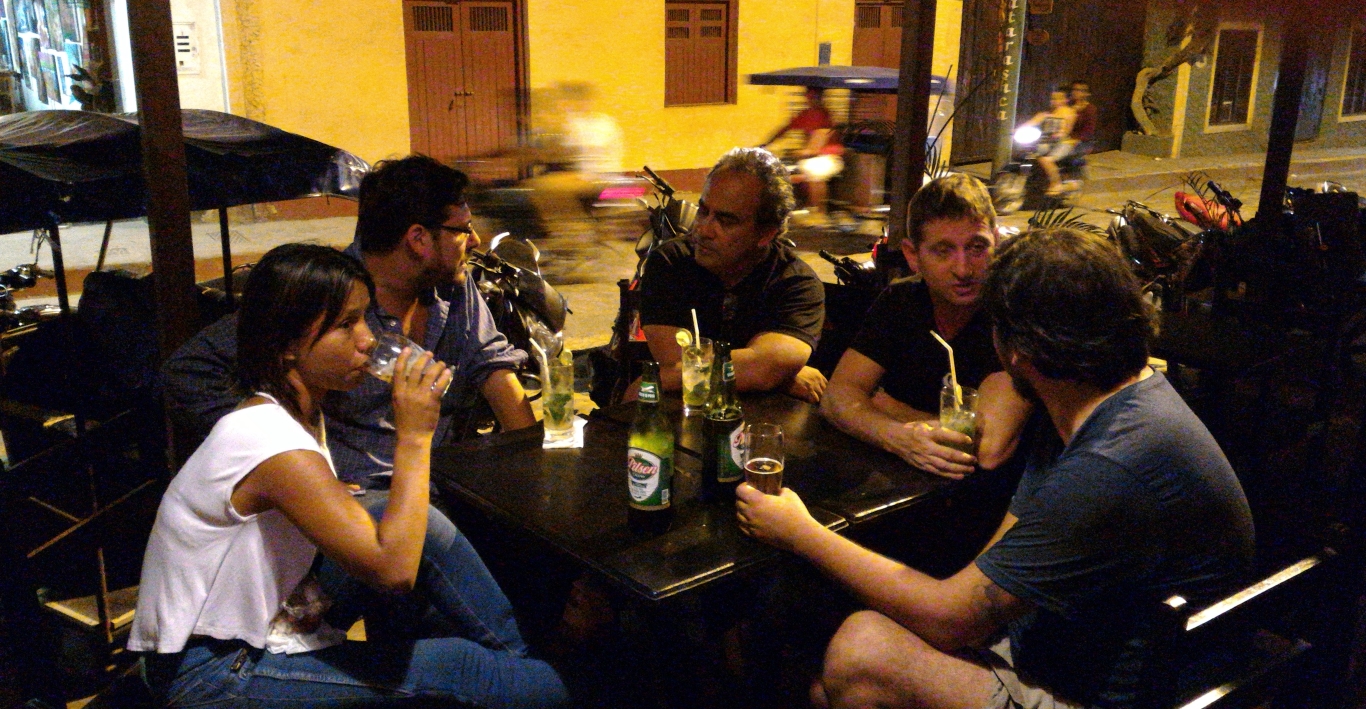 Pay a Fair Price for Beer
If you're going to drink, and let's face it you probably are, then get to know the prices. Some bars, typically the ones trying to be all sophisticated, will charge S/ 8 for a 330 ml bottle of Pilsen, Cusqueña or Cristal. That, quite frankly, is daily robbery, especially when a less flashy but probably way more fun bar down the street will sell a 630 ml bottle of the same beer for S/ 6. If you want to drink and have fun for the night, shop around.
Haggle Like a King (But Not Like a Miser)
Feel free to haggle in Peru, especially in traditional markets. If you're buying more than one item, ask for a deal. This works particularly well in clothes stores and souvenir markets, where you can normally get a small discount if you buy two or more items. But don't push too hard with the negotiating, especially in provincial markets. These stall owners often make little on their wares as it is, so it's not good to force them to accept even less of a profit.
Buy the Cusco Tourist Ticket
If you'll be in Cusco for a while, buy the Cusco Tourist Ticket (Boleto Turístico del Cusco). For just S/ 130 ($40), this ticket grants access to about 15 archaeological sites and museums in and around Cusco and the Sacred Valley. Most of the museums are average at best, but the sites — including Pisac, Ollantaytambo, Chinchero, Moray and Saqsaywaman — are stunning. The ticket only lasts 10 days, which is a little short in my opinion, but you can see everything within that time.
Get a Student Discount
If you're a student, it's always worth asking tour and trekking companies if they offer a student discount. Many Inca Trail tour operators, for example, offer a $30 to $40 discount for holders of a valid International Student Identity Card (ISIC). You can apply for one at www.isic.org.
Buy Fake Clothes (?)
I'm not sure if this is good advice or not, but I've bought fake trekking gear in Peru and it's lasted me for ages. There's plenty of fake North Face stuff, as well as cheap and secondhand trekking gear, in small shops in Cusco, some of which you'll find in Calle Procuradores (pictured). The owners will often readily admit that it's knockoff merchandise: "At these prices? Of course it's fake!".
On the other hand, I've bought fake sneakers/trainers in Peru and they lasted about a week. So avoid the footwear, but maybe pick up some fake trekking clothing for bargain prices.
Keep an Eye Out for Budget Airlines in Peru
A new budget airline — Viva Air — began operating in Peru in April 2017, with domestic flights as cheap as S/ 60 (compared to similar domestic flights that currently cost more than S/ 300). Also keep an eye out for cheap flights between Tarapoto and Chachapoyas, which are currently on offer for S/ 60 with SAETA — but only for Peruvians and legal residents of Peru. Foreign tourists have to pay S/ 220.
Always Check Your Change
Always count your change in Peru. Whether by accident, poor math or on purpose, being short-changed is fairly common. Be especially cautious when you're out drinking in bars and clubs, as bar staff sometimes try to pocket your change in the hope that your alcohol-addled brain will forget all about it.
Learn Spanish to Save Money in Peru
Having a basic command of Spanish is a real plus for anyone traveling in Peru on a budget. You'll be able to haggle more, negotiate better prices, ask locals for cheap places to eat, the list goes on. Also, taxi drivers etc. are less likely to try to rip you off if you speak Spanish, as they know you're in a stronger position than someone who can't clearly argue back.
Realize That Hostels Aren't Always the Cheapest Option
Hostels in Peru typically target international travelers rather than homegrown backpackers, and the prices are often elevated to match that audience. Dorms are still just about the cheapest options available, but if you want a private room, whether for one person or a group of four, you might be better looking elsewhere. Midrange non-touristy hotels are sometimes comparable in price, while hospedajes and alojamientos — guesthouses, often family-run — are very affordable alternatives. You can sometimes find bargains on Airbnb, too.
Contact Hostels and Hotels Directly for Cheaper Rates
This isn't always the case, but you can often get cheaper room rates by calling or emailing a hostel or hotel directly. Don't always make reservations through booking websites, as you might be paying more than necessary (it's best to compare the two). And if you reserve a room directly with a hostel, you might not need to pay anything up front.
Consider Couchsurfing
With more than 22,000 local hosts in Lima alone, Couchsurfing is a fun way to keep costs low in Peru while meeting the locals. You won't find too many options outside the big cities, but it's always worth a look.
Ask for a Discount for Longer Hotel or Hostel Stays
It's always, always, always worth asking for a discount for longer stays at a hotel or hostel. This works really well for stays of five days or more, but even give it a go for two or three nights, especially in low season.
Group Up for Better Savings
I've always been a solo traveler by choice, but there are definite financial advantages to traveling as a pair or in a larger group. Being in a group often provides better prices for tours and treks. You can spilt the cost of supplies if you want to cook in your hostel. And a three- or four-bed room works out a lot cheaper than paying for a private single room. Couples also benefit from sharing matrimonial rooms, which really keeps costs down.
Visit Sites and Attractions Independently
When it comes to visiting local attractions, always find out if you actually need to go with a tour group. I see people arranging tours to places all the time, when it's actually really, really simple to go independently. The main archaeological sites in the Sacred Valley, for example, are easy to get to by public transport and a bit of walking. Ask a few locals and do some research online; if it sounds tricky, go with a tour group. Otherwise, try going it alone: it's all part of the adventure (and it should be cheaper).
Make Use of Long Distance Buses in Peru (If You Have the Time)
If you have enough time in Peru, you can make use of the country's respectable system of long distance buses. For reasons of safety and comfort, avoid the cheapest options and always use one of the better companies. You'll certainly save money if you go by bus rather than fly (unless you can find a cheap ticket with the new budget airline; see above), but you will lose time. That's the trade-off: Save money with a 12- to 24-hour bus ride, or save time with a more expensive one-hour flight. If you're one of those people who can sleep pretty much anywhere, then you can save even more money by taking overnight buses in Peru, saving a night's accommodation.
Avoid Inflated Taxi Fares at Airports
Official taxi fares from airports in Peru are often inflated. This is particularly true in Lima and Cusco. In Lima, a taxi from the airport to Miraflores can cost at least S/ 50 to S/ 60 (more if you don't haggle). It is possible to walk outside the main gates of the airport to find a cheaper taxi or even jump in a minibus, but it's not a good idea for safety reasons. A better alternative is to take one of the cheap bus or shuttle services from Lima Airport to Miraflores, which cost between S/ 15 and S/ 33.
In Cusco, the official rate for a taxi from the airport into the historic center if S/ 40. That, in my opinion, is a rip-off. Better to book a taxi with a company like Taxidatum.com, which will cost $7 (S/ 23), and they'll be waiting for you at the airport. You can also walk out of the airport and flag down a cab on the street, which should cost about S/ 5 to S/ 10. This is safe during the day, but probably best avoided at night.
Buy Souvenirs From the Source, Not From Touristy Souvenir Stores
Whenever possible, try to buy souvenirs from the source. Not only will you save money, you'll also more directly help the local artisans. You can, for example, buy all kinds of souvenirs and Peruvian products from across the nation in stores in Lima. But if you'll be traveling around the country, buy your knitwear in Cusco, your devil mask in Puno, and get your jungle beads in Iquitos.
Take an Alternative Route to Machu Picchu
Even if you're traveling in Peru on a budget, you'll probably spend a bunch of money on one thing: visiting Machu Picchu and/or trekking the Inca Trail. But before you book the classic 4 day/3 night Inca Trail trek (which typically costs in excess of $600), consider an alternative hike to Machu Picchu. The spectacular Lares and Salkantay treks are often at least $100 cheaper than the classic Inca Trail, saving you a nice chunk of money. Many of the best Inca Trail tour operators also run treks along these alternative routes. Or, of course, forego the trekking altogether and take the train to Aguas Calientes (for Machu Picchu). You can always trek in other parts of Peru, including Colca Canyon, Huaraz, the Amazon Jungle, and many, many more.
Find Attractions with Free Admission
Government-run tourist attractions in Peru tend to be quite cheap to enter, and some are even free. In Lima, for example, you can stroll into the Museum of the Inquisition without paying a sol (note: the Museum of the Inquisition is currently closed for renovations). Then there are plenty of parks, markets and colorful colonial districts that you can easily explore on foot.
Share Your Tips for Traveling in Peru on a Budget
If you have more tips for traveling in Peru on a budget, please share them in the comments section below. Thanks, and happy travels!