When you travel to
Cusco
and Machu Picchu, altitude sickness is a legitimate concern. And while the archaeological site of Machu Picchu is actually below the elevation at which altitude sickness typically occurs, surrounding areas — including the city for Cusco and certain points on the Inca Trail — are well above the risk zone.
How High is Machu Picchu?
The center of the Machu Picchu archaeological site sits at an altitude of about 7,972 feet (2,430 meters) above sea level. That puts it just below the generally accepted altitude at which altitude sickness (known as soroche in Peru) can occur, which is 8,000 feet (2,500 m).
Altitude sickness can occur below this level but the risk is very low. You will, however, feel the effects of altitude at this height. The saturation of oxyhemoglobin begins to decrease at around 7,000 feet (2,100 meters) above sea level, so you'll likely notice a decrease in physical performance while you walk around Machu Picchu (particularly when walking uphill), including shortness of breath.
Higher Altitude Locations Around Machu Picchu
If travelers could be magically taken straight to the archaeological site of Machu Picchu, altitude sickness among visitors would be very rare indeed. But nearly everyone stays at higher altitudes before or after visiting the site itself, and this is when the risk of altitude sickness increases.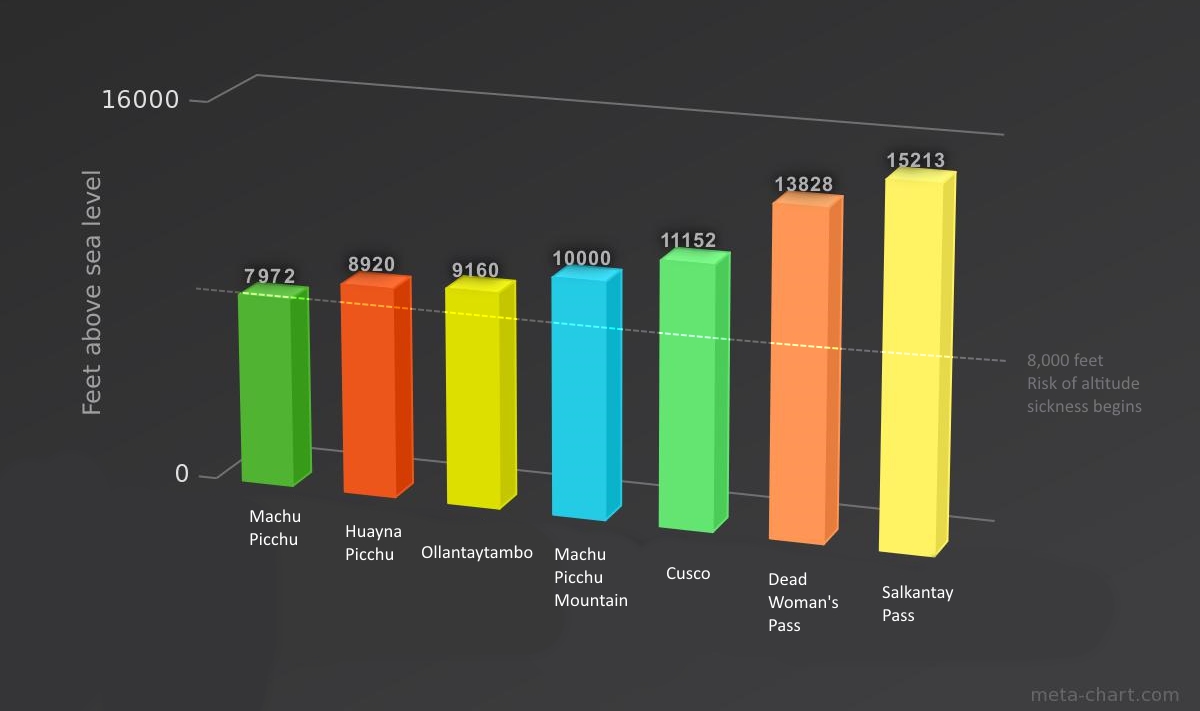 Cusco is the traditional tourist hub for the majority of visitors to Machu Picchu. And Cusco lies at 11,152 feet (3,399m) above sea level, well above Machu Picchu and above the point at which altitude sickness can occur.
The highest point along the classic Inca Trail trek — Dead Woman's Pass — reaches an altitude of 13,828 feet (4,215 meters). You can see an Inca Trail elevation profile here. Alternative treks to Machu Picchu also rise up well into the altitude sickness zone. The Salkantay trek, for example, reaches its highest point at the Salkantay Pass at 15,213 feet (4,638 meters). Mount Salkantay, at 20,574 feet (6,271 m) above sea level, is one of the highest mountains in Peru.
Then there are the two mountains that rise up above Machu Picchu, both of which are open to the public with the correct permits. Huayna Picchu rises to a height of 8,920 feet (2,720 meters) above sea level. Machu Picchu Mountain, meanwhile, towers above the archaeological site, its peak reaching up above the 10,000 feet (3,048 meter) mark.
The examples above, most notably Cusco, make it clear that it's not necessarily the Machu Picchu altitude that's the real risk to travelers. Rather, it's the time they spend at higher altitudes before and after visiting Machu Picchu.
How to Acclimatize for Machu Picchu
It's easy to be nonchalant about the risk of altitude sickness while visiting Machu Picchu. But you really should try to acclimatize for at least a day — ideally two — when you first arrive at altitude, be it in Cusco or any other town or city in the Cusco Region that sits around, or more importantly above, the 8,000 feet (2,500 m) mark.
This is particularly important if you are flying straight to Cusco from Lima or any other low-lying city. If you take the bus from Lima to Cusco, you'll be slowing climbing for 20 hours or so, giving your body some time to adapt. Flying in from near sea-level, however, can be a real shock to the system.
In a perfect world, you should adapt your travel itinerary to include at least 24 hours in Cusco before going to Machu Picchu or doing any other strenuous treks or tours in the region. Take it easy on the first day; drink plenty of water, avoid alcohol, and maybe chew a bunch of coca leaves or drink a few cups of coca tea (but avoid coca if you might have a drug test when you get back home. 
Also, hire a reputable and responsible tour operator for your tours to MAchu Picchu. You have a list of our hand-picked best inca trail tour operators here. The most responsible tour operators will ensure that your health is at the top of their list when you go to Machu Picchu.
If you are feeling the effects of altitude and begin to feel nauseous, dizzy or start having headaches, you can head to a local pharmacy and buy some altitude medication. This is normally Acetazolamide (diamox), which is the most common type of "soroche pill." Also consider dropping down a couple of thousand feet to a lower altitude, perhaps to a nearby town like Ollantaytambo (9,160 ft/2,792 m) or Pisac (8,907 ft/2,715 m).
If your symptoms worsen, seek medical help immediately.
Machu Picchu Altitude Sickness Deaths
Deaths caused by altitude sickness during trips to Machu Picchu are rare, so I'm not highlighting any of these to make you worried. You shouldn't be worried, but you should take at least some time to acclimatize — and you should take potential altitude sickness symptoms with the seriousness that they deserve.
A handful of deaths caused by altitude sickness have occurred in the last few years among travelers visiting Cusco and Machu Picchu.
In January 2013, Adam Savory, a 25-year-old backpacker from the UK, died from altitude sickness after taking a bus from Ica on Peru's coast to Cusco. According to the Eastbourne Herald, "Adam complained of feeling tired and unwell and said he was 'feeling the altitude' but did not think it was anything serious. But within two days his condition has drastically worsened." Despite receiving medical attention, he died days later.
In August 2013, Steve Mortimer, a 68-year-old British man, died while waiting for a bus in Aguas Calientes to take him up to Machu Picchu. Mr. Mortimer had been suffering from breathlessness for a few days; he died from a heart attack linked to problems caused by altitude sickness.
The same year, in November, a 46-year-old US citizen, William Thomas Hunt, was found dead in his hotel room in Cusco. It is believed he died from fatal altitude sickness.
More recently, in December 2016, 60-year-old Andrew Wainright died of altitude sickness within hours of climbing Machu Picchu.
Machu Picchu, Altitude Sickness and Staying Safe
Again, I'm not highlighting these tragic fatalities to make you paranoid. But you should always treat the symptoms of altitude sickness with respect. Seek medical attention if you start feeling ill. If you're traveling alone and feel too sick to get out of bed, call someone — shout if you have to — and ask them to get a doctor.
I suffered from altitude sickness in Potosí, Bolivia — at 13,420 feet (4,090 meters), it's one of the highest cities in the world. Like many stories of altitude sickness among backpackers, I was on a long-distance bus trip to the high-altitude city when I started feeling ill. When I arrived, I disappeared into a hostel room and went straight to bed, feeling truly rotten.
Looking back, I should have asked someone to call a doctor. Thankfully, I recovered a day later. Others, tragically, are not so lucky.