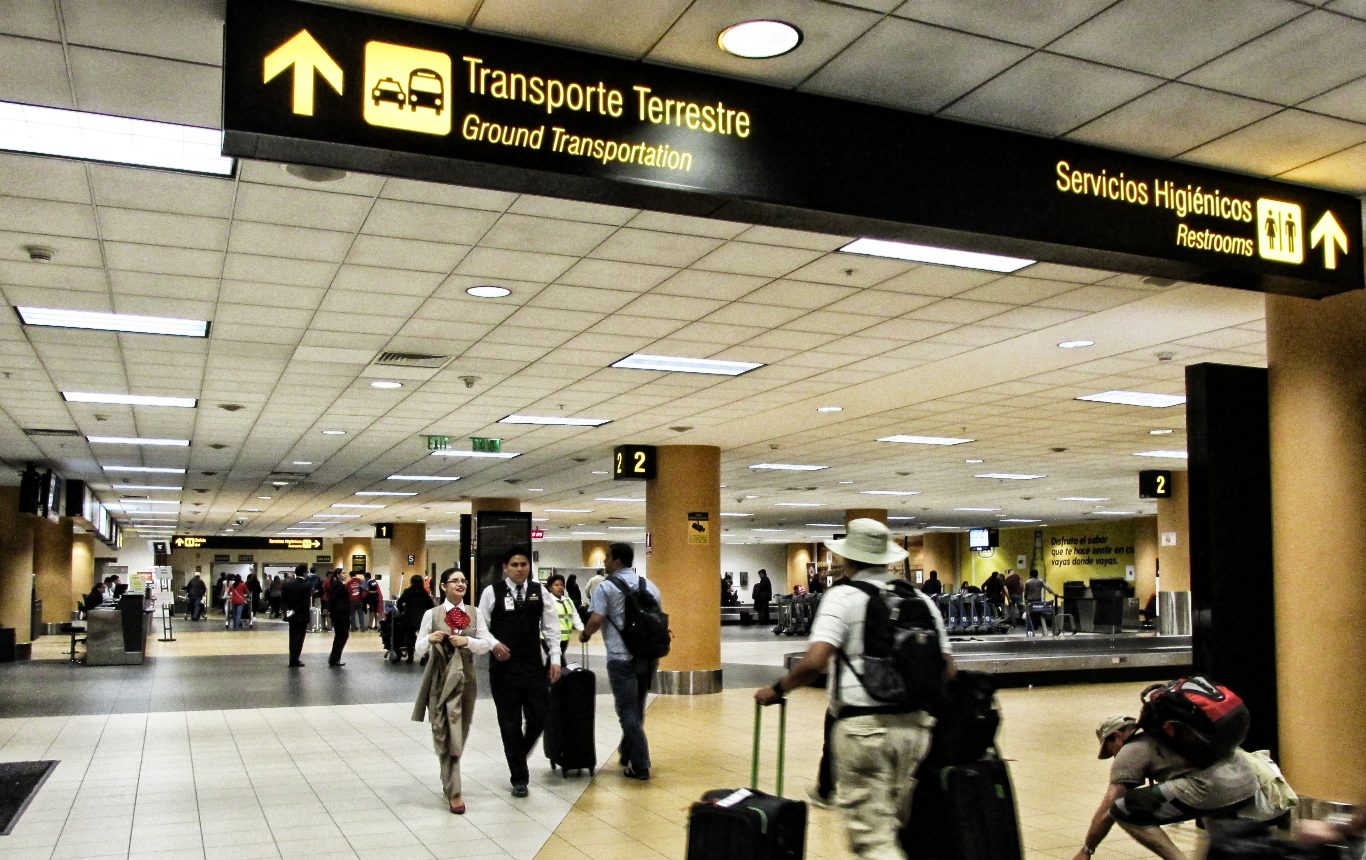 Getting from Lima Airport to Miraflores is one of the first travel conundrums faced by many new arrivals in Peru: Lima's Jorge Chávez International Airport is the entry point for most travelers, and Miraflores is still the main tourist hub in the Peruvian capital.
So, what are your options? Up until recently, taking a taxi from inside the airport boundaries was just about the only safe way to get from Lima Airport to Miraflores (or any other district, including Central Lima and Barranco).
But a handful of options now exist, providing a much cheaper alternative to the taxis while maintaining good security standards.
(By the way, if you're heading to Lima for the first time, read my Lima travel guide.)
Getting a Taxi From Lima Airport to Miraflores
Taking a taxi has always been the standard way of getting from Lima Airport to Miraflores, Barranco, Central Lima or any other district, but the new bus and shuttle services might change that. Taking a taxi is still the best way of getting to Central Lima, as the two bus services listed below only go to Miraflores (for now, at least).
Taxis operating officially within the airport include Taxi 365, Taxi Directo and Taxi Green. They have service desks inside the airport, at both international and domestic arrivals.
A taxi from inside Lima Airport to Miraflores normally costs between S/ 50 to S/ 60. Don't let the drivers con you into paying more than this — and tips aren't necessary unless they help you carry your bags into your hotel etc.
The taxis inside the airport are safe, comfortable and the fare isn't too bad if you can split it between two or three people. The taxi ride from the airport to Miraflores takes about 30 to 45 minutes, more if the traffic is bad (which it frequently is, especially at rush hour when gridlock is common).
Alternatively, you can call a taxi company such as Taxi Satelital or Taxidatum, who'll then be waiting for you at the airport. The fare from Lima Airport to Miraflores with Taxi Satelital is S/ 50.
Another option — and one used and recommended by numerous expats in Lima — is Gringo Taxi (a.k.a. Transporte Fácil Perú. The service is operated and owned by Walter Clark, a driver with more than 20 years of professional driving experience in New York City. Walter is now serving customers in Lima, and his emphasis is on safety and impeccable service. You can arrange a ride with Walter and Gringo Taxi by email (transportefacilperu@gmail.com), through the website,  or through the company Facebook page. Rates depend on where you are going; from the airport to Miraflores costs $25 US.
Airport Express Lima Bus Service
Airport Express Lima (www.airportexpresslima.com) is a direct bus service between Lima Airport and Miraflores. It uses seven strategic stops in Miraflores, which should get you fairly close to your hostel or hotel (you can check this at the website). This service began on March 26, 2017, so it's still very new.
Buses leave the airport every half hour in the morning and at night, and every hour between 11 a.m. and 6 p.m. If you book a ticket but arrive late, you can simply jump on to the next bus. Tickets cost US$10 (about S/ 33) one way, and $18 (about S/ 60) for a return ticket. You can buy them online, inside the airport or pay the driver directly on the bus.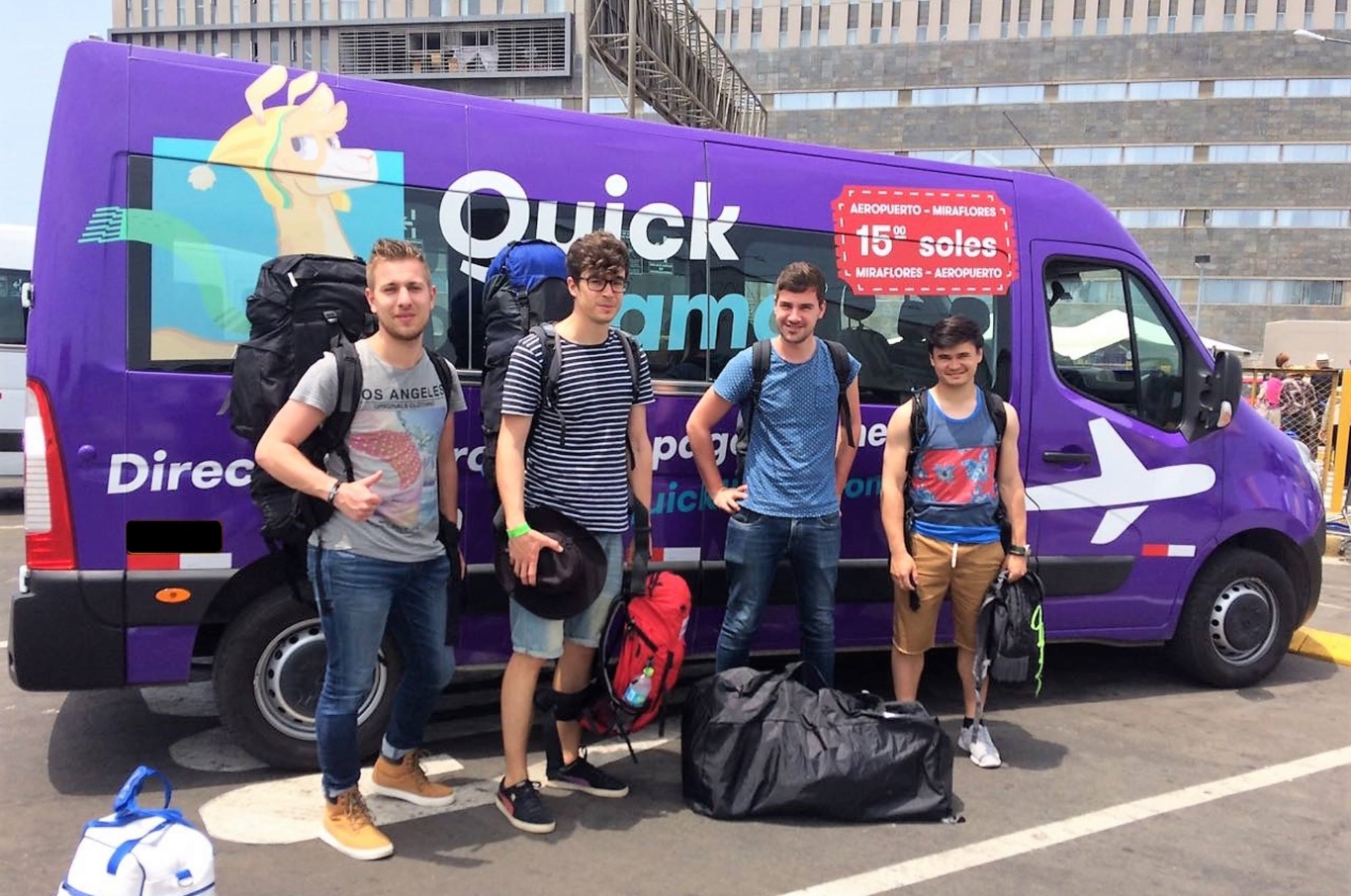 Quick Llama Shuttle Service
The Quick Llama (quickllama.com) shuttle service is a particularly cheap way of getting between Lima Airport and Miraflores. It's a new service — it began in December 2016 — but hopefully it will be profitable and stand the test of time. At the moment, the shuttles only go to three locations in Miraflores, but you can always head there and then take a S/ 5 taxi ride to your hotel or hostel.
The Quick Llama service is just S/ 15 from Lima Airport to Miraflores and vice versa, making it the cheapest option listed here. For groups of three or more, the price per person is S/ 10. You can buy your ticket online at the Quick Llama website, or pay the driver in cash (if there are seats available).
Shuttles leave every one or two hours. The trip takes between 35 minutes to one hour, depending on the time of day.
Uber From Lima Airport to Miraflores
You can use Uber to get from Lima Airport to Miraflores (or anywhere else). I've heard mixed things about using Uber in Lima, but typically swaying toward positive rather than negative.
Using the fare estimator on the Uber website, the fare from Lima Airport to Miraflores should be about S/ 60 for UberBLACK and S/ 50 for uberX.
Public Transport Outside Lima Airport
While it's totally possible to flag down a cab or jump in a cheap combi (minivan) on the street outside the airport, it's not recommended. The airport is located in Callao, a city that forms part of the larger Lima Metropolitan Area, and Callao isn't too safe, especially at night.
It was never worth going outside the airport and risking all your luggage — or worse — just for the sake of saving S/ 30 or S/ 40. And with the cheaper bus and shuttle services now available, it's even harder to recommend using public transport outside the airport.