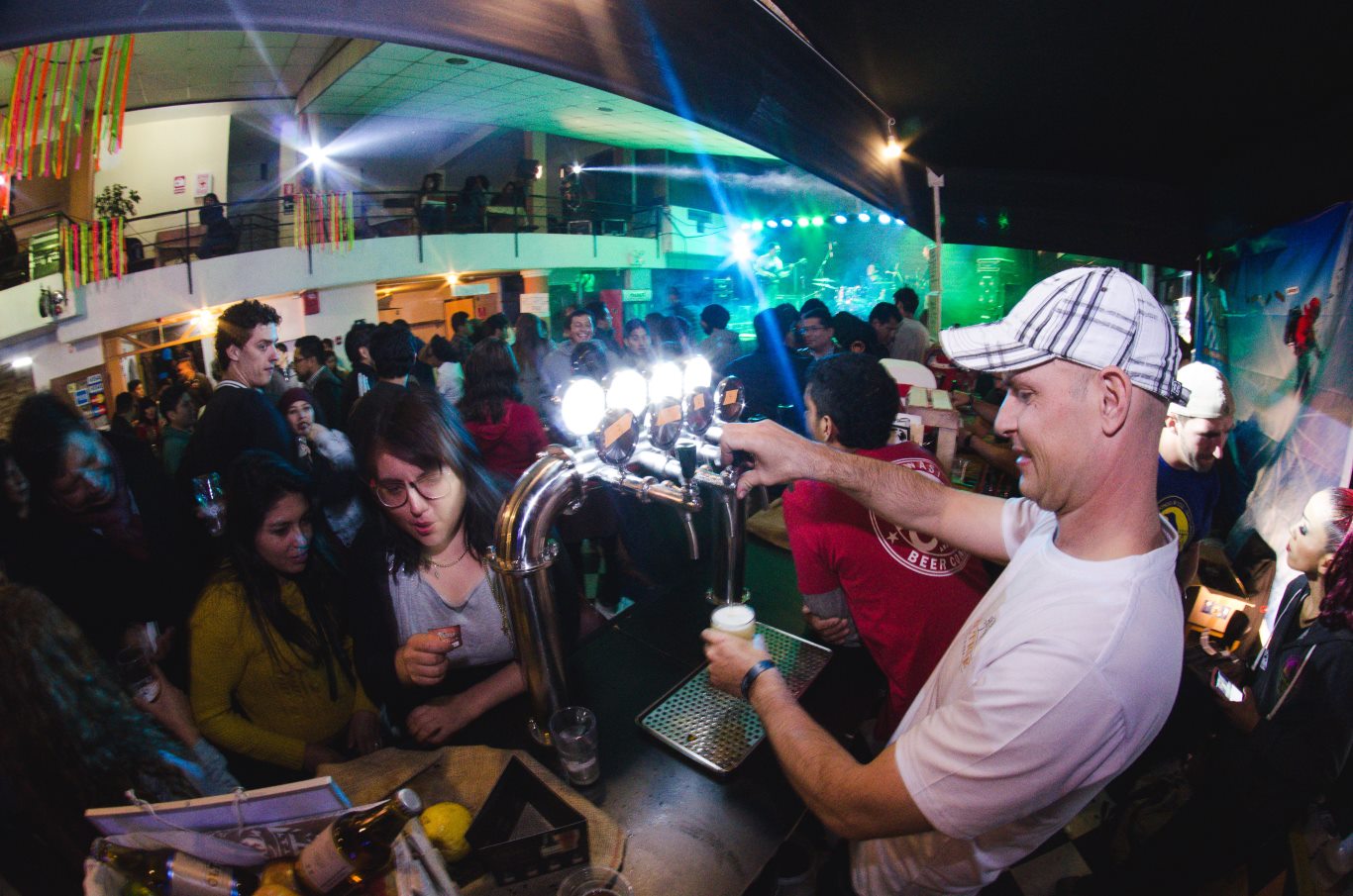 Scott Jones pouring a pint of Oltree Cider at the Arequipa Craft Beer Festival.
Down in southern Peru in the colonial "White City" of Arequipa sits an Englishman and a mound of apples. He is Scott Jones, who, as far as he knows, is the only qualified cider maker in Peru, and the only dedicated cider producer in the country.
Scott's cider-making journey in Peru began with his Crazy Llama brand, launched in 2014. Then, when Scott found out the Red Bull group had trademarked a similar name, he decided a relaunch was in order. The rebranding began in January 2017 and resulted in Oltree Cider, a crisp, clean, 100% natural apple cider available as dry, medium, and sweet, as well as strawberry and maracuya (passion fruit) varieties, all at 6% alcohol by volume.
For cider drinkers such as myself, this was great news. But introducing a relatively unknown type of alcohol to the Peruvian population was never going to be so easy…
The Origins of Peru's First Craft Cider
With the rise of Peru's craft beer movement in the last few years, Scott was hoping to see someone start producing cider, his drink of choice back in the U.K. But after waiting for a year or so, his thirst for cider forced Scott to take the situation into his own hands.
"My first batch was 20 liters and it tasted great," says Scott, "and this spurred me on to do it as a business." Scott had previously completed cider-making courses in the U.K., so he already knew his way around a brewery. But getting started as a cider maker in Peru was far from straightforward:
"I went down the inversionista route [a type of resident visa], so I invested $30 thousand to start up the business. The problem was I needed to deposit it into a Peruvian bank to start the process. And without a carné de extranjería [resident visa], I couldn't open the bank account. It was a closed circuit: no bank account, no carné; no carné, no bank account. And that was the first hurdle of opening a business in Peru."
After several weeks bouncing between his bank manager, the head of immigrations, and his lawyer, the only solution for Scott was to use his lawyer as the legal signer, placing her in total control of his 30 grand. Hardly an ideal situation. "Luckily for me," says Scott, "once I received my carné four to five months later, the business was signed over to me."
In the Brewery
Back in the brewery, it all begins with the apples, which Scott buys from just outside Lima. On average, Scott gets through about four tonnes of apples each month.
"Sourcing apples is very tough," he says, "because the price [per kilo] is the same for one kilo as it is for two tonnes! So no discount — and in actual fact if you buy a kilo it might weigh 1.1 kilos, but if you buy two tonnes it's exactly that, so the idea of getting a wholesale price doesn't seem to apply here in Peru."
Scott is currently in the process of expanding his production to 2,500 liters per month, which will keep him at full stretch in his relatively straightforward Arequipa-based brewery. "My equipment consists of an apple mill, press, carbonator and pasteurizer: fairly basic stuff and certainly not tens of thousands of dollars spent on bottling lines!"
Introducing Craft Cider to Peru
Craft beer has established a strong foothold in Peru's larger and more touristic cities, but it's still not part of the wider culture. Selling cider to Peruvians is an even greater challenge, as cider (sidra) is pretty much an unknown alcoholic beverage in Peru. And the cider that can be purchased here, well, it's not great.
"So-called 'cider' in Peru is served in a champagne bottle and is about 4% alcohol," says Scott. "It's very sweet and very gassy and tastes horrible. It costs about 12 soles a bottle and is generally used for toasting at Christmas. I've had to educate the British culture of cider [in Peru] so it's been tough going, but slowly I'm getting there."
Oltree cider is currently on sale in three of Peru's major cities. In Lima, you can find it in the Barbarian taproom and at Houlihans Irish Bar. In Cusco, you can buy Oltree at Paddy's Irish Pub, Norton Rat's Tavern and Nuevo Mundo Draft Bar. And in Oltree's hometown of Arequipa, you'll find it on sale at Chaqchoa, Chelawasi and Kiwi Corner.
"I seem to sell more in touristy spots," says Scott, "due to tourists not being able to find cider easily in Peru, so they're normally excited to see cider being sold."
You'll also find Scott representing cider at some of the beer festivals now taking place more regularly in Peru. In May 2017, Scott took part in the IV Festival de Cerveza Artesanal Arequipa (IV Arequipa Craft Beer Festival; see facebook.com/festaqp for future events) — again, as the sole cider-maker on the scene.
"The festival was a success," he says. "The downside was that I sold all my stock, so I've been catching up on production these days, hence the production expansion. On the Saturday night I sold a lot, mostly to women; I was selling the maracuya and fresa real-fruit ciders, which were popular."
Looking ahead, Scott says he's now focusing on selling more cider in barrels, "as more and more bars seem to be having tap systems."
As for competition, Scott would like to see other cider-makers enter the Peruvian market, so that he's no longer the lone producer: "At this point I would like to have other cider producers, to get the word out and start having cider festivals like the beer festivals."
It could be a while before we see a dedicated cider festival in Peru. But hopefully more Peru-based brewers will start making cider, helping both Scott and cider make further advances into Peru's national drinking culture.
Scott Jones: bringing craft cider to Peru.