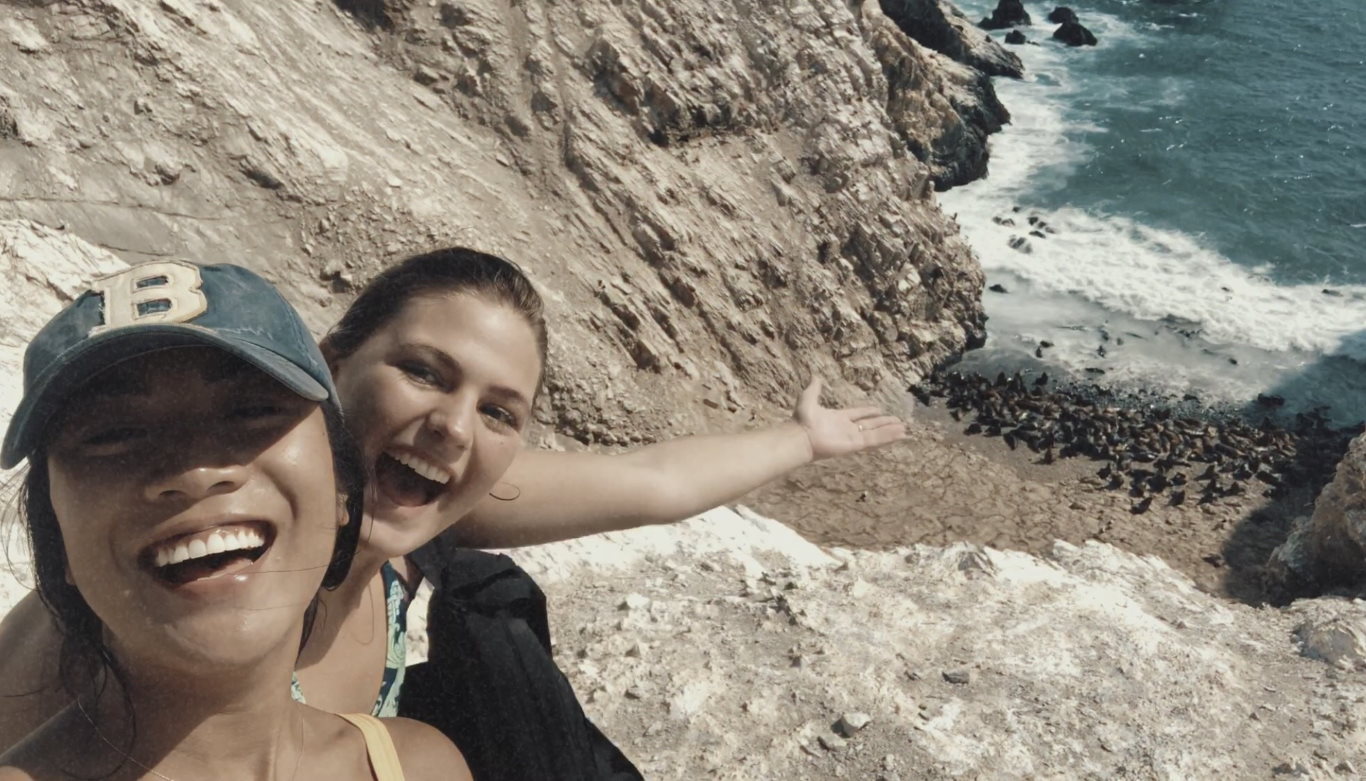 This is a guest post by Louella Aquino. All photos and video are from the author.
Our twelve-person white van sped down the desert. This was our third mode of transportation of the morning. After an hour-and-a-half bus ride and a very bumpy mototaxi, we were feeling a combination of hangovers and motion sickness. I told Ellie we shouldn't have gone out the night before.
We were headed towards the coast to some boat or port we hoped would bring us closer to our goal of Isla Foca. Isla Foca is a small island off the northern coast of Peru and is home to hundreds of native sea lions and seals. Situated between the cold northern Humboldt current and warm equatorial current, Isla Foca is celebrated for its biodiversity.
We each looked out the passenger windows and stared into the Peruvian desert. Neither of us had a clue as to what our destination would reveal to us. Ellie had heard of Isla Foca and had been wanting to go the past two and a half years. This was her last opportunity before she headed back to the states. I just learned that foca means seal.
But regardless, everything felt perfect and right in the world in that moment. We raced the sun to the top of the sky.
Three Reasons to Go to Isla Foca
First, Isla Foca is an easy day trip from Piura. It's a little off the beaten path for local and foreign tourists alike, but easily reachable when you know how (see further below). The island is located just off a small fishing village called La Islilla, which is about 12 miles from the small coastal city of Paita in the Piura Region. La Islilla (Paita District) is about an hour and a half west of the city of Piura, the capital of the Piura Region. That makes Isla Foca a very feasible day trip when you're in Piura but don't have a lot of time because you're en route to the beaches (like Mancora).
Secondly, Isla Foca is a heaven for nature nerds, and marine biologists have crowned Isla Foca a paradise between two currents. Situated between the cold northern Humboldt current and warm equatorial current, Isla Foca is rich in marine life, including 34 species of birds (eight of which nest on the island, and include blue-footed boobies); three species of reptiles; 54 species of fish; 32 species of mollusks; 30 species of echinoderms; 28 crustacean species; and a montón of native sea lions and seals. When you get a fisherman and boat to take you to Isla Foca, they'll let you swim and relax on the island's quaint beach. And between the months of July to November is whale watching season.
Thirdly, a trip to Isla Foca supports the work of nonprofit organizations like Seacology and Nature and Culture International. The partnership between these two NGOs led to the creation of the visitor center in La Islilla. The center is modest and offers interpretive materials as well as artwork and crafts made by local women. This community benefit is paired with the conservation efforts that have protected the 24,216-acre marine habitat for 15 years. For northern Peru, where ecotourism efforts are still nascent, this nature conservation and ecotourism initiative is a leader in some ways.
*Note: the author, at time of publication, works for Nature and Culture International but did not have any association with, or knowledge of, the organization at the time of the visit.
​How to Get to Isla Foca from Piura
The following steps will tell you how to get to Isla Foca from Piura, and how to then get a boat to the actual island.
Step 1: Getting from Piura to Paita
There are two bus companies that will bring you from Piura to Paita, and the direct bus ride is typically 45 minutes to an hour. One bus company is called CIVA and the other is ITTSA. The bus companies are comparable if not the same in price and service. Both bus companies have buses leaving for Paita regularly (every 20 to 30 minutes or so). I'm purposefully not listing the bus station addresses here because it'll likely change in the future and then this will be out of date. Most taxi and mototaxi drivers will know where the stations are as many people often commute between Piura and Paita. Just ask: "Sabes dónde está la estación del bus a Paita?" That should work like a charm.
At the bus station, get the next bus to Paita. The bus to Paita should be 4 soles per person. The prices should be published as well. Also be sure to ask for the last bus of the day going back to Piura. They should go pretty late into the night, but it's always good to have this updated information handy as bus schedules may vary by day.
Step 2: Getting from Paita to La Islilla
Option 1 (most economic option): Once your bus pulls into the Paita bus station, the adventure begins. There will be a swarm of mototaxis waiting outside the bus station. You'll have to use some Spanish here and explain that you want to go to La Caleta de La Islilla and need to be taken to the colectivos. This mototaxi to the colectivo terminal shouldn't cost more than 3 soles per person.
The mototaxi should bring you to the colectivos. Colectivos are shared cars or vans and leave once they're full. It may seem strange if you're not accustomed to it, but it's a general mode of transportation in Puira. The cost for the colectivo to Islilla is 6-7 soles per person.
Option 2: If there is a taxi at the bus station, you can try to haggle and get a reasonable price to go straight to La Islilla.
Step 3: Getting from La Islilla to the island Isla Foca
Once you get to La Islilla, look or ask for the caleta. At the fishing port, there is a small and modest visitor center for la Isla Foca. It was a project with Seacology, but it's unclear if anyone mans the visitor center full-time. If it's open, you can inquire there about getting a boat to Isla Foca. If it's not open, then you'll have to look to the local fishermen and ask them. The cost for the excursion varies depending on how many people are going out on the boat with you. The excursion will include the roundtrip boat fare and allow you a few hours on the island to swim and explore.
Heading Back to Piura
After your excursion to Isla Foca, head back to Paita to catch the bus back to Piura. In La Islilla, head back to where the colectivos had dropped you off or ask the friendly villagers where to go. Headed back to Paita, ask the colectivo if they'll drop you off by the muelle (dock) which used to be the historic Paita customs house and remains an active fishing port.
Here, you can check if the restaurant Bvlass is open. Bvlass is an al fresco, traditional, northern Peruvian seafood restaurant overlooking the Peruvian bay with a laid back ambiance only coastal fishing villages have, with economic prices to boot! What more could you ask for? Bvlass, however, is a good example of how digital or internet presence by local businesses is behind in northern Peru. They don't have a website or clear hours of operation listed on the internet. It's also unclear if their phone number listed on Google is up to date, so you may be disappointed to find them closed during your visit.
Regardless, you can enjoy the Paita plaza where the town gathers to sit in the shade and cool down from the desert heat of Piura while talking about the recent chismes. Ice cream vendors wait for business on the sidewalks and children run around chasing each other.
Make your way back to one of the two bus stations in Paita (you can check both companies on your moto there). Get on your bus back to Piura, sit back and soak up all the new memories.
Louella Aquino is a Business Development & Nonprofit Management Consultant living and working in Peru since January 2019. She also writes and makes art. You can learn more about Louella at LouellaAquino.com.