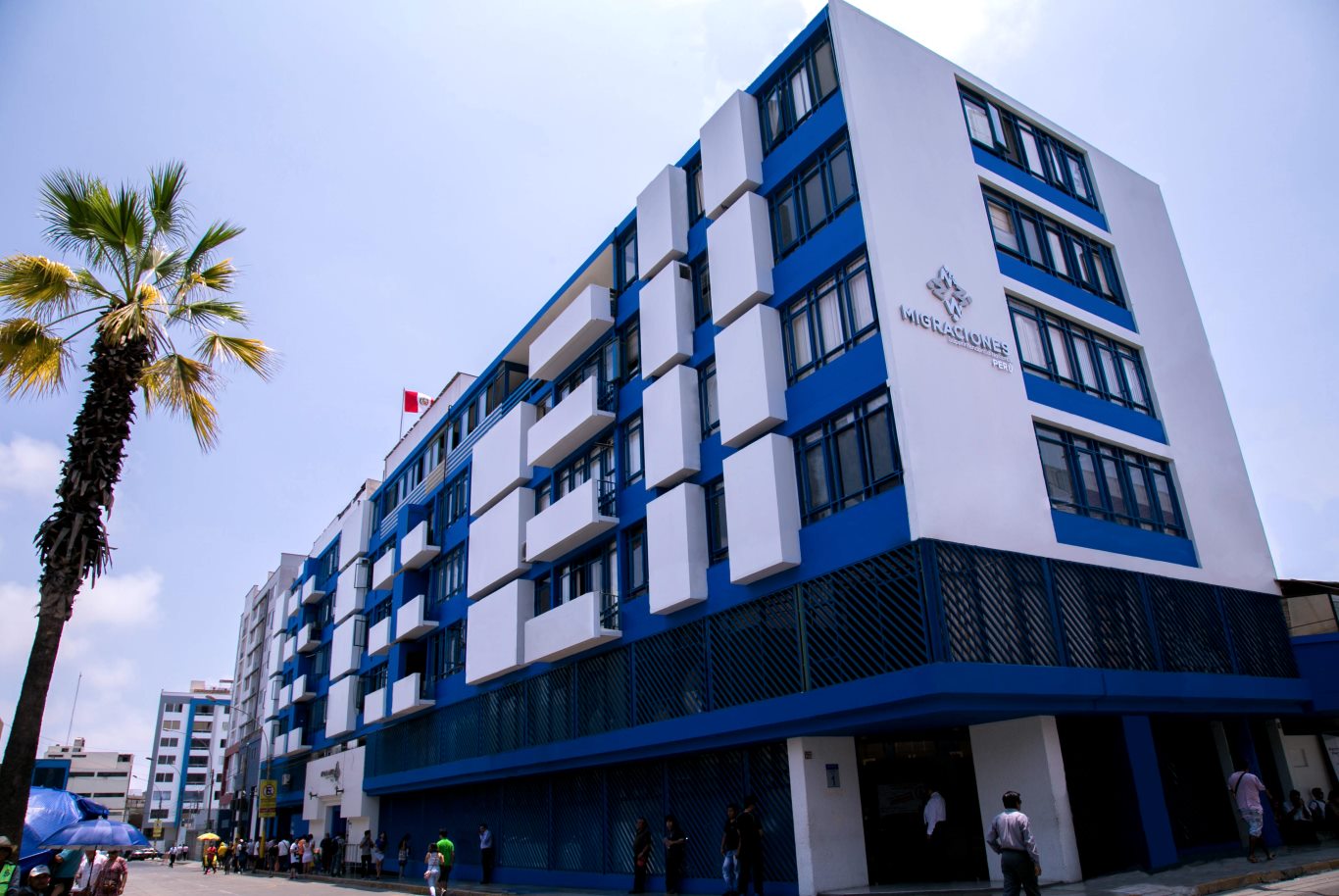 You'll now find quite a few immigration offices in Peru (known as Migraciones, www.migraciones.gob.pe), where you can apply for various visas and permissions, sort out any issues you might have with your Tarjeta Andina tourist "visa" (such as when the online extensions aren't working), apply for residency, etc.
It wasn't many years ago that nearly everyone had to go to the main immigration office in Lima — a huge pain if you happened to be traveling or living in other parts of Peru – but in the last few years smaller immigration offices have opened up in more than 10 other cities. And it's often far quicker and easier to get stuff done in these smaller provincial offices than in the main office in Lima.
The Main Immigration Office in Lima
The main immigration office in Lima (read my Lima travel guide here) is located at Prolongación Av. España 734 in the Breña District of Lima. The opening hours are Monday to Friday from 8 a.m. to 4 p.m.
The phone number is 200-1000, although it can be difficult dealing with people there over the phone. You'll sometimes have more luck sending a question to the Migraciones Facebook page.
It's easy enough to get to the office, a big, blocky, five-floored building with one main entrance along Av. España. If you're staying in downtown Lima, especially on or near Parque de la Exposición or Plaza San Martin, it's walkable in about 10 to 15 minutes. From the Plaza de Armas it's a bit of a trek, but certainly doable if you enjoy an urban stroll. Just try not to get run over by one of Lima's notoriously awful drivers, of which there are many.
Otherwise take a taxi, which I think should cost around 15 to 20 soles from Barranco or Miraflores (depending on the time of day and how hard you haggle). Or take the Metropolitano to the España Station, which is about two blocks east of the Migraciones office.
For some procedures you'll first need to create an appointment online. You can find the links for these in the right-hand sidebar on the Migraciones homepage. Foreign tourists will normally want the link that says "Citas en Línea Inmigración."
It can be a bit hectic and confusing when you arrive at Migraciones for the first time. You'll need to show your passport to the security guy at the main entrance, then head on in. There's an information desk just inside the main entrance, where you can ask where to go. I think most of the immigration procedures for foreign tourists are done on the first or the third floor, but best to ask anyway.
After that, prepare yourself for unexpected bureaucratic nonsense, and hope for the best that it all goes smoothly. Sometimes it can take 10 minutes, sometimes two hours, and sometimes two days. Good luck, and if you have any questions, feel free to leave a comment below.
Arequipa
Chiclayo
Chimbote
Cusco
Huancayo
Ilo
Iquitos
Piura
Pucallpa
Puerto Maldonado
Puno
Tacna
Tarapoto
Trujillo
Tumbes
Immigration Offices in Other Cities in Peru
From my experiences in the immigration offices in Chiclayo and Tarapoto, it's a lot quicker and easier to do straightforward immigration stuff in these smaller regional offices, rather than in Lima.
There are currently 15 regional offices dotted across Peru. You won't necessarily be able to complete all procedures in these smaller offices, but it's worth going in and asking. Most of them should be able to help you with tourist visa extensions and other (supposedly) simple tasks.
Nearly all of these offices are open Monday to Friday from 8 a.m. to 4 p.m., and Saturdays from 8 a.m. to midday.
Arequipa
Address: Urbanización Quinta Tristán 2do Parque, Distrito José Bustamante y Rivero, Arequipa
Phone: 054-421759
The immigration office in Arequipa is about 1.75 miles (as the crow flies) southeast of the historic center. I'm not sure if there's much worth seeing out this way. Any suggestions?
Chiclayo
Address: Calle Los Tumbos 160, Urbanización Santa Victoria, Chiclayo
Phone: 074-206838
Chimbote
Address: Prolongación Leoncio Prado Mz. C Lt. 2, Chimbote
Phone: 043-322481
Cusco
Address: Av. El Sol 612, Local de la Prefectura, Cusco (read Cusco travel guide)
Phone: 01-2001000 (Extension 1201)
The immigration office in Cusco is directly southeast of the Plaza Mayor, less than half a mile away and passing near the Coricancha on the way (if you head down Av. El Sol).
Huancayo
Address: Av. Giráldez N°634 , Camara de Comercio (one block from RealPlaza), Huancayo
Phone: 064-214260
Ilo
Address: Urbanización Enapu-Perú Mz. B, Ilo
Phone: 053-482105
Iquitos
Address: Av. Andrés Avelino Cáceres (no number), block 18, Morona Cocha, Iquitos (read Iquitos travel guide)
Phone: 065-235173
Piura
Address: Corner of Av. Sullana and Integración, Piura
Phone: 073-335536
Pucallpa
Address: Jr. Libertad 542, Pucallpa
Phone: 061-575014
Puerto Maldonado
Address: Av. 15 de Agosto 658, Puerto Maldonado
Phone: 082-571069
Puno
Address: Jr. Ayacucho 270 – 280, Puno (read Puno travel guide)
Phone: 051-357103
The immigration office in Puno is located right in the center of the city, less than a block from the Plaza de Armas.
Tacna
Address: Av. Circunvalación, Urb. El Triángulo, Tacna
Phone: 052-243231 / 052-242210
Tarapoto
Address: Jr. Ramírez Hurtado 433, Tarapoto (read Tarapoto travel guide)
Phone: 01-2001000 (Extension 1335)
The immigration office in Tarapoto is small but the people are friendly. And if you get hungry, there's a good cevicheria called Primer Puerto a few doors up the road.
Trujillo
Address: Av. Víctor Larco Herrera 1216, Urb. Los Pinos, Trujillo
Phone: 01-2001000 (Extension 1301)
Tumbes
Address: Av. Arica 151, Tumbes
Phone: 01-2001000 (Extension 1314)
Any Advice or Experiences to Share About Immigration Offices in Peru?
If you have any tips, tales or traumas associated with any of the immigration offices in Peru, feel free to leave a comment below. Thanks!