If you're thinking about bringing a laptop to Peru, you might have some questions and maybe a few doubts. That's understandable, so I'll try to answer as many potential questions as possible.
Do I Actually Need to Bring a Laptop to Peru?
First things first, and only you can answer this: Do you really need to bring a laptop to Peru? We're increasingly becoming slaves to our keyboards and keypads and touchscreens and whatever, but maybe we'd be far better off leaving them all at home when we travel? There's also weight to consider when you're packing for Peru: if you want to travel light, is the laptop really necessary.
If you do ditch the devices, you can rely on internet cafes and communal computers in hotels and hostels. Consider it: it might just give you that extra freedom you've been looking for. But if you can't live with a laptop, read on…
Should I Bring a Laptop, Tablet or Smartphone to Peru?
Being a travel writer, I nearly always travel with my laptop — a 15.6 inch Asus — and I've never had any problems. Still, there's always a risk of damage or theft. But I need the capabilities of a laptop to publish articles, edit photos etc.
If your reasons for taking a laptop to Peru are more along the lines of communicating with people back home, uploading photos to Facebook and watching movies, then you might be better off taking a tablet or a smartphone. These smaller devices are certainly more practical when traveling. They save space and reduce weight in your backpack (read my guide to buying a backpack for Peru), are less susceptible to damage (simply because they are smaller and can be better protected), and are less likely to attract attention when you carry them around.
But if you need the capabilities of a laptop, then go ahead and take it to Peru. And that's what we'll be focusing on here.
Will I Have Problems Passing Through Peruvian Customs With a Laptop?
According to Peruvian customs regulations as laid out by SUNAT (Peru's administrative body in charge of taxation and customs), you can enter Peru with one laptop. Any additional laptops will be subject to a customs charge, which is currently 20% of the minimum value of the item as determined by the customs official. Along with a laptop, you can also bring one tablet, two cellphones/smartphones, two external hard drives, and four USB pen drives/flash drives.
How Good is the Internet in Peru?
If the internet is awful in any given country, then there's less reason to take a laptop. But internet access in Peru has progressed a lot in the last 10 years, and you might be quite surprised at some of the connection speeds. At the same time, you will come across frustratingly slow connections, even in some major cities (Iquitos is one notable city with bad internet, which is understandable given its isolated location in the middle of a vast jungle).
Overall, don't let the idea of slow internet speeds sway you against bringing a laptop to Peru. It will be slow at times, and non-existent in small isolated villages, but you'll never be too far from a decent connection unless you're in a remote area.
Where Can I Get Online in Peru?
Nearly all hotels and hostels in Peru have Wi-Fi, as well as many cafes and some restaurants and bars. You can also take your laptop into an internet café and connect wirelessly.
Will I Need an Adapter or Voltage Converter to Use My Laptop in Peru?
In almost all cases, you won't need a voltage converter to use your laptop in Peru. The battery chargers of modern laptops, as well as tablets and smartphones, normally have dual/worldwide voltage (rated 100-250V), which is fine for Peru. Depending on where you bought your laptop, you might need a simple plug adapter. You can read more about electricity and plugs in Peru here.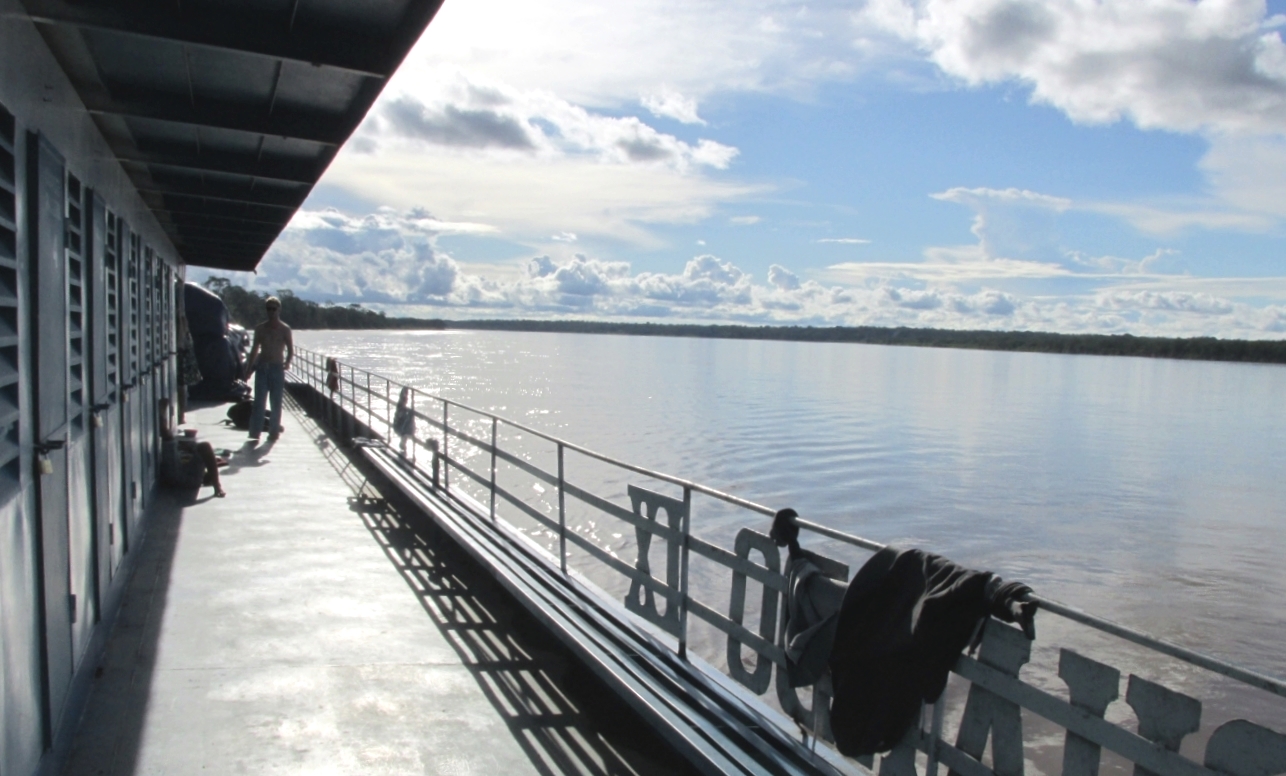 The cabins on Peruvian river boats, seen on the left side of this photo, are tiny, but good for keeping valuable equipment safe, including laptops (photo by Tony Dunnell)
Will My Laptop Be Damaged in Peru?
Wherever you travel with a laptop, there's always a risk of damaging it. Peru is no exception. Buy a good laptop case and make sure you protect your laptop when in transit.
I always take my laptop with me as hand luggage on airplanes and buses, because some baggage handlers chuck bags around with no care for what might be inside. Baggage allowances for domestic flights within Peru typically allow one carry-on item and one "personal item" as hand luggage (as well as one item of checked baggage). Most of the major airlines in Peru consider a laptop to be a personal item, so you can carry it as additional hand luggage if you need more room in your carry-on bag.
If you're traveling by cargo boat, say from Yurimaguas or Pucallpa to Iquitos, it's worth paying extra for a cabin so you can securely store your laptop and other valuable items.
Will My Laptop Be Stolen in Peru?
Opportunistic theft is rife in Peru, so always keep your laptop close and never leave it anywhere unattended, not even for a millisecond (and that's only a slight exaggeration: Peruvian thieves are quick). Avoid using your laptop in exposed public places, such as bus terminals, where thieves can easily snatch your laptop — while you're using it — and run off into the crowds outside.
If you're sitting with your laptop in a café, choose a table away from the street. If you're using your laptop in the communal area of your hotel or hostel, never leave it unattended. If you're staying in a dorm, make use of your locker or the hostel storage room (if you think it's secure). Ideally, don't walk around in the streets with your laptop; if you have to, don't carry it openly, but tuck it in to your daypack.
It's a good idea to take an external hard drive to back up all your valuable files, including your holiday photos. You can always buy a new laptop if it gets stolen, but you can never replace those photos. You can also use cloud storage.
Where Can I Get My Laptop Fixed or Upgraded in Peru?
It's easy enough to find computer stores in Peru's cities, most of which have technicians for repairs and upgrades. But before you choose a store or technical service, try to ask around for some recommendations.
In Tarapoto, where I live, I only go to one computer store (Amidata), as the others I've tried have either been incompetent or downright cheats (refusing to return something that they originally recommended, despite it being the wrong piece; suggesting upgrades that are actually downgrades; stuff like that). So be careful before handing over your valuable laptop to a technician, as you can't always be sure they'll do a good job (or even the right job).
And If I Want to Buy a Laptop in Peru…?
Go ahead. But if you buy a laptop in Peru, it will probably have a Spanish or Latin American keyboard layout (complete with ñ and ¿, for example). Also, the system language will be in Spanish by default, but you can ask about having this changed. Installed programs like Microsoft Office might also be in Spanish, and this can sometimes be tricky to change.
Apart from language/regional issues, you should be fine buying a laptop in Peru. You'll find the best prices and the most options in Lima.
I Have More Questions About Bringing a Laptop to Peru!
No problem. Go ahead and leave your question in the comments section below and I'll answer as soon as possible.