If you're looking for truly traditional food in Cusco, try Quinta Waly. Photo by Tony Dunnell.
Cusco is a fantastic place to eat, whether you want authentic local classics or a taste of home. But you'll also find plenty of restaurants that are overpriced and not worth the effort. So to steer you in the right direction, here are more than 25 of the best restaurants in Cusco, as compiled by me, after a whole lot of eating.
I'm always looking for new recommendations (and second opinions), so please feel free to leave a comment below about any of your favorite restaurants in Cusco, be they cheap, traditional, fusion or authentic, or anything in between. Thanks.
For a map of all the restaurant locations, see the end of this article.
All photos by Tony Dunnell.
Traditional Local Restaurants in Cusco
Gastronomic Fairs — For a full frontal introduction to Peruvian food, you can't do much better than a gastronomic fair. Food fairs take place on a fairly regular basis in Cusco, including on Plaza San Francisco (some Sundays). You'll find traditional dishes from across the region, including cuy (guinea pig), chicharrón (chunks of pork) and chiriuchu (a huge mixed platter of all kinds of things). These fairs are good places to try some of Peru's weirder culinary classics.
La Cusqueñita Picantería — Popular for its traditional food, regional dance shows and chicha beer, La Cusqueñita escapes cheesiness by having a solid grounding in local culture. Not the best food of its type in Cusco, but the whole package makes it worth a visit. Centenario 800 (with a second location further out at Av. de la Cultura 3035).
Los Mundialistas — If you want big chunks of tasty deep fried pork, head to the chicharronerías on Pampa del Castillo, a street leading toward the Qurikancha. Los Mundialistas, opened in 1977, is perhaps the best of the bunch. Pampa del Castillo 371.
Quinta Waly — A quinta, like a picantería, is a traditional restaurant in Cusco (I was told that a quinta is an urban version of a picantería, but don't quote me on that). Quinta Waly is rough around the edges (dogs on the floor, the occasional fly) but I love it. And so do the loyal locals who eat here every day. It's not a touristy place at all, but the family-style cooking is authentic and full of old-school love. The daily menu typically includes chicharrón, guinea pig, pork chops, grilled heart, sarsa de patita (pork foot salad) and the chef's recommendation (to me, at least): chancho al horno (oven roasted pork). Sublime. Av. Alta 506.
Quinta Eulalia — A more tourist-friendly alternative to Quinta Waly (no dogs under tables). Choqechaka 384.
Antojitos — A good, centrally located restaurant for a cheap lunchtime menú (about S/ 10 to S/ 12). Popular with the locals. I can't vouch for any of the à la carte options, as I only tried the menú. Marquez 284.
A classic chicharrón de chancho at Los Mundialistas in Cusco. Photo by Tony Dunnell.
Contemporary Peruvian Restaurants in Cusco
These restaurants sell Peruvian food, often with a modern twist (words like "elevated" and "fusion" spring to mind). They tend to be more expensive than most other restaurants in Cusco.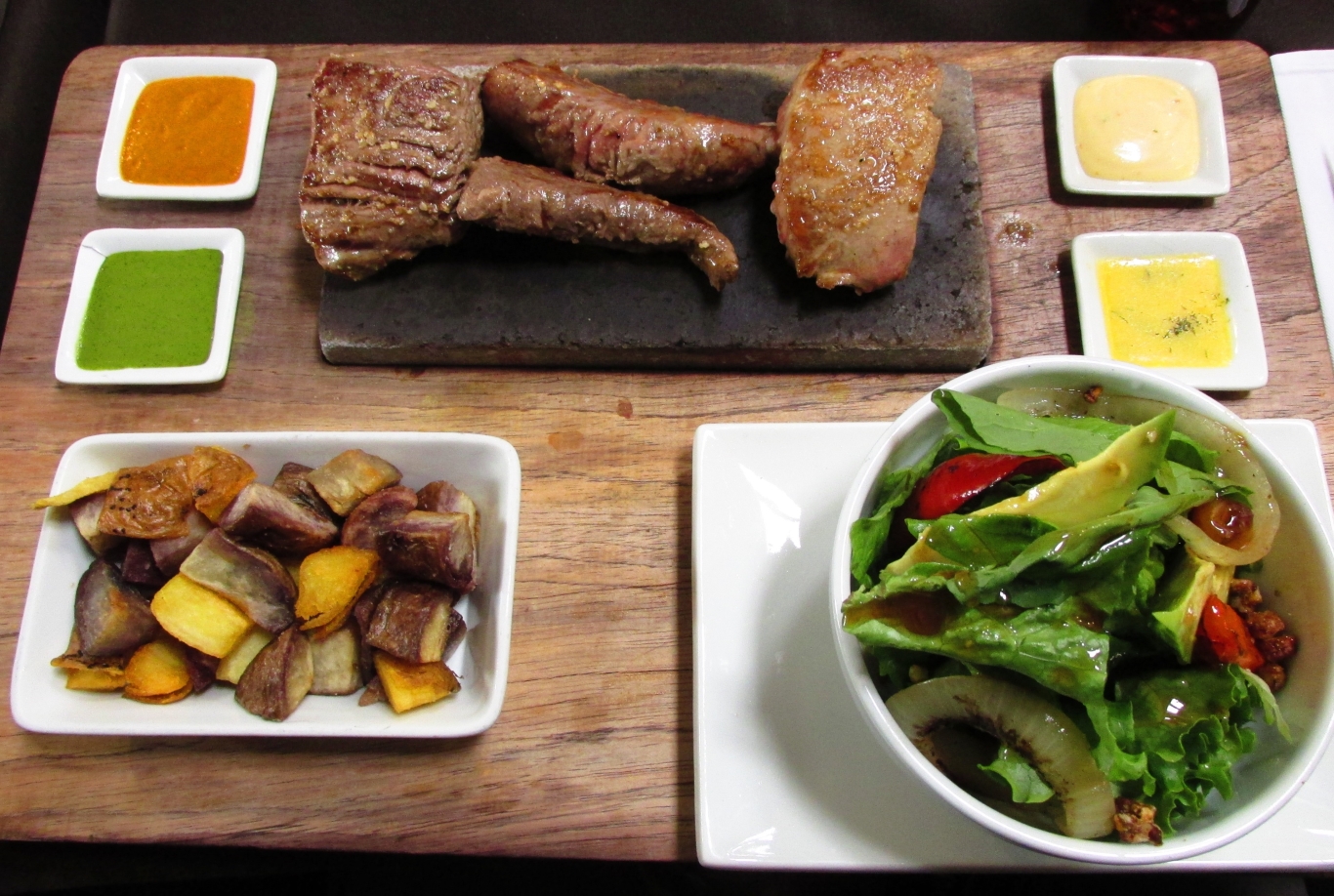 The Loco Carnes dish at Uchu is a thing of rare beauty (or medium rare beauty, depending on how you like it). Photo by Tony Dunnell.
Indian Restaurants in Cusco
Korma Sutra — As far as I know, this is the only Indian restaurant in Cusco. And there's good news for all you curry-cravers out there: Korma Sutra does a respectable job. It's a British-style curry house — the owner is English — with a few Peruvian twists (crispy tandoori guinea pig, anyone?). Connoisseurs of Indian cuisine will no doubt find fault with some of the dishes, but Korma Sutra is still one of the best Indian restaurants in Peru. Tandapata 909, San Blas.
Mexican Restaurants in Cusco
Tacomania — Owned by Nick Garrett, the same Englishman behind Korma Sutra, Tacomania is the best place for Mexican food in Cusco. Mexican restaurants in Peru are often disappointing, but the nachos, tacos, burritos and enchiladas at Tacomania will satisfy all but the most hardened critic. Teatro 394 (Tacomania used to be up in San Blas, in case you were wondering).
Vegetarian Restaurants in Cusco
Full disclosure: I'm what you might call a committed carnivore and I've only eaten at one vegetarian restaurant in Cusco. So I'm particularly interested in your recommendations, which I'll happily add to this section (contact me or leave a comment below). Thanks!
Green Point My Vegan Restaurant — I went to Green Point with a group of friends and, despite some initial trepidation, I was pleasantly surprised by the food, the presentation and the overall atmosphere. And it's apparently the only 100% vegan restaurant in Cusco. Carmen Bajo 235, San Blas (and there's now a second location on Plaza San Francisco 310). www.greenpointveganrestaurant.com
Spanish and Italian Restaurants in Cusco
I kind of forced Spanish and Italian together (my apologies to Spaniards and Italians), partly because of Cicciolina, one of the best restaurants in Cusco.
Cicciolina — Is it Italian? Is it Spanish? Is it something in between? Well, Cicciolina has an Italian name and has risotto, osso buco and tagliatelli on the varied menu. It also has excellent tapas, which is about as obviously Spanish as you can get. Throw in dishes like alpaca in a creamy four-pepper sauce and trout ceviche, and it's safe to say that Cicciolina covers plenty of bases. But it doesn't overstretch. In fact, it hits a home run. Whether you want tapas in the relaxed tapas bar or a fine dining experience in the formal dining room, Cicciolina's charm and sophistication is easy to see. And it's not even that expensive, with mains between S/ 35 and S/ 50. Triunfo 393 (second floor). www.cicciolinacuzco.com
La Bodega 138 — Need pizza? Need beer? Try La Bodega 138. It's also good for salads, apparently. Herrajes 138.
Sandwich and Burger Restaurants in Cusco
Papacho's — Peruvian celebrity chef and restaurateur Gastón Acurio turned his attention to gourmet burgers with Papacho's, which now has four locations in Lima and one in Cusco. Decent burgers are hard to find in Peru, but the burgers at Papacho's are way beyond just decent. Some are classic combinations, others have a Peruvian twist, and all are big, juicy and tasty. Good stuff on a cold Cusco night. Santa Catalina Angosta 115 (Plaza de Armas). papachos.com
Juanito's — A popular sandwich restaurant up in San Blas, with fillings ranging from lomo saltado to Philly cheese steak. Tends to attract a backpacker crowd. Most sandwiches are between S/ 18 and S/ 25. Siete Angelitos 638, San Blas.
Chinese Restaurants in Cusco
I struggled to find any really stand-out Chinese restaurants in Cusco. I tried a handful of chifas, but few made much of an impression. All recommendations are therefore more than welcome.
KION Peruvian Chinese — This Peruvian-Cantonese restaurant opened just a few days after I last left Cusco, so I haven't had the chance to check it out. But I've heard good things. Scott, a friend of mine who lives in Cusco and runs EthnoCO, says: "Damn good… Asian food, fancy… I went there after my wedding and dropped S/ 400." He was with a few friends, I assume. KION is kind of like a high-brow chifa, so the prices are higher than normal. Triunfo 370.
Chifa Sipan — Of the more standard chifas I've tried in Cusco, this is the only one that made any lasting impact. It's a fairly average chifa by Peruvian standards, but good value for money. Quera 251.
UFO Asian Food — Another new place I haven't been to yet, but one highly recommended by a friend. It serves affordable Chinese food (traditional Chinese rather than Peruvian chifa). Dishes include yaki chicken and udon curry. Prolongacion Recoleta 401.
U. S. American Restaurants in Cusco
Cuse Smokehouse — This smokehouse offers authentic American BBQ. The dry-rubbed smoked pork ribs are tender and rich, the burgers are great and there's really nothing else like it in Cusco. Kudos to Cody Fisher, the restaurant's Syracuse-born head chef. Don't miss it. Open Monday to Saturday from 5 p.m. to 10 p.m.. Calle Roberto Acosta A-108.
Papacho's — see sandwich and burger restaurants above
Middle Eastern Restaurants in Cusco
Please note: I typically eat kebabs late at night when I'm drunk, which is a British tradition. Therefore any opinions I might have about kebab restaurants in Cusco are the opinions of a drunk man. When considering kebabs, I find this totally reasonable. Thank you.
El Durum — Providing perfect late night kebabs for Cusco's alcohol-sodden tourists. I even went here sober once, and it was still great, which was a most welcome surprise. Choquechaca 156.
La Casa Del Kebab — There's nothing better than a lamb shawarma when you've lucked out in Cusco's bars and you need to soak up some excess alcohol before conceding defeat. Yummy. Plateros 320.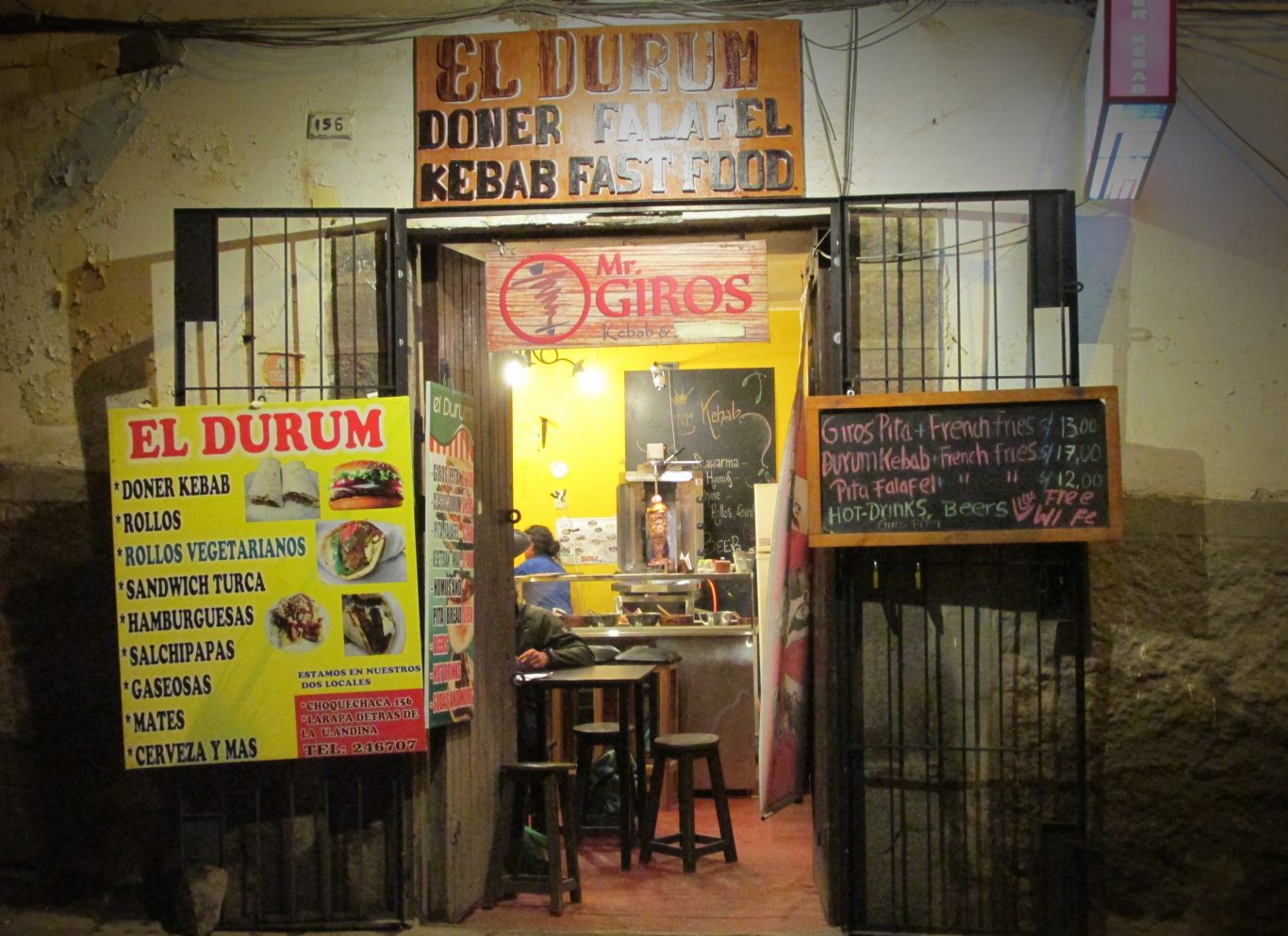 For late-night kebab cravings in Cusco, try El Durum. Photo by Tony Dunnell.
Cafés and Breakfast Restaurants in Cusco
This is a mixed bag, but you know the kind of place I mean, right? Café-restaurants that sell a bunch of mostly informal stuff, might have a good breakfast, do great sandwiches etc.
Jack's Café — A true icon of Cusco's tourist scene, Jack's Café is ground zero for the gringo apocalypse. Or something like that. Whatever, offer a great all-day breakfast, big toasted sandwiches, soups, Thai curry, a steak sandwich and a plethora of other dishes to keep foreign tourists happy. Friendly service, too. Choquechaka 509. jackscafecusco.com
The Meeting Place Café — The place in San Blas for meeting up with people, hanging out with a coffee or hot chocolate, eating Belgian waffles and making new friends. It's also a good place for finding out about upcoming events. And you can buy beautiful hand drawn antique-style maps by King of Maps. Plazoleta San Blas 630, San Blas.
Creperia La Bo'M — Hip, trendy, arty, comfortable. With killer crepes and unholy hot chocolate. Carmen Alto 283, San Blas. www.labohemecusco.com
La Cusqueñita
La Cusqueñita, Centenario 800
Los Mundialistas
Los Mundialistas, Pampa De Castillo 4
Quinta Waly
Quinta Wal, Av Alta 506
Quinta Eulalia
Quinta Eulalia, Choqechaka 384
Antojitos
Antojito, Calle Marquez 284
Marcelo Batata
Marcelo Batata, Calle Palacio 121
Uchu
Uch, Calle Palacio 135
Pachapapa
Pachapap, Carmen Bajo 120
Morena Peruvian Kitchen
Morena Peruvian Kitchen, Calle Plateros 348
Korma Sutra
Korma Sutra, Calle Tandapata
Tacomania
Tacomani, Calle Teatro 394
Green Point My Vegan Restaurant
Green Point, Carmen Bajo 235
Cicciolina
Cicciolin, Triunfo 393
La Bodega 138
La Bodega 138
Papacho's
Papacho's, Sta Catalina Angosta 115
Juanito's
Juanito's, Siete Angelitos 243
KION Peruvian Chinese
KIO, Triunfo 370
Chifa Sipan
Chifa Sipan, Quera 245
Cuse Smokehouse
Cuse Smokehouse, Carmen Alto 120
El Durum
El Durum, Choqechaka 156
La Casa Del Kebab
La Casa Del Kebab, Plateros 320
Jack's Café
Jack's Café, Choquechaka 509
Meeting Place Café
Meeting Place Café, Plazoleta San Blas 630
Creperia La Bo'M
Creperia La Bo'M, Carmen Alto 283