In 2022, only a few airlines have survived the blow taken by airlines across the world coming from the COVID19 pandemic and only a few others remain operating flights. 
 A handful of domestic airlines in Peru provide a quick and reasonably efficient way of traveling around the country. Most flights within Peru take about an hour, and there are regularly scheduled flights to most of Peru's major cities (see a map of Peru's major airports here).
On the downside, flying in Peru is quite expensive, especially if you're on a tight budget. For example, don't expect domestic flights for anywhere near as cheap as in India or Malaysia. Thanks to budget airlines, even flying within Europe can be cheaper than flying domestically within Peru. 
As of March 2022, and coming out of the long pause caused by the pandemic, Peru's "budget airlines," Viva Air, started operating in early 2017, and Sky Airlines have become the favorite alternatives of budget travelers. However, they can be more expensive if people are not familiar with their policies.
Gaps in Peru's domestic flight network also mean that overland transport (bus, normally) is sometimes unavoidable. You can't, for example, fly to cities such as Puno, Ica, or Moyobamba, at least not by any regularly scheduled flights.
Brief Reviews of Domestic Airlines in Peru
Below are Peru's five most established domestic airlines, each with regularly scheduled flights to at least a few of Peru's major cities.
Determining which airlines are "the best" is subjective. LATAM arguably has the best service but tends to be more expensive. And due to their cheaper fees for Peruvian nationals, both airlines have been accused of applying a "Gringo Tax" to foreigners. That's not true, but you do have to be careful when purchasing tickets with LATAM.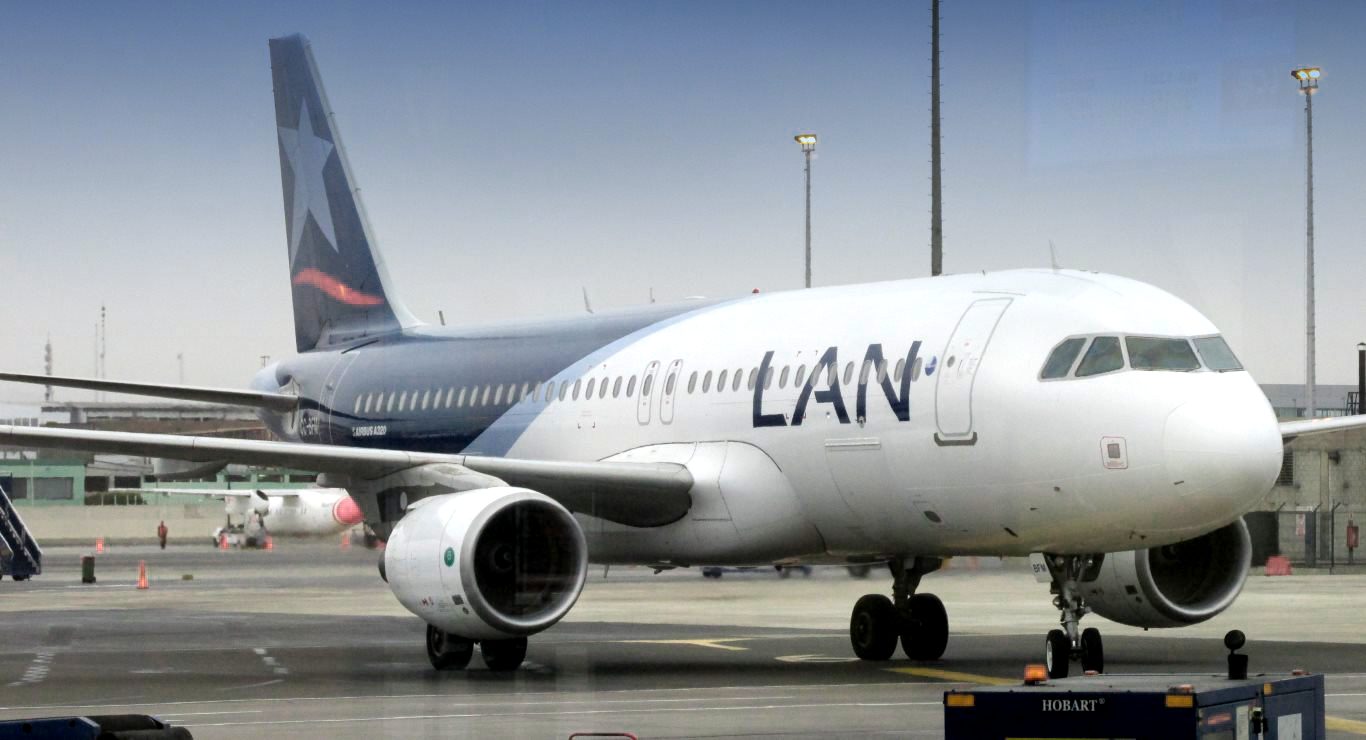 A LAN airplane (now LATAM) at Lima Airport in 2015. Photo by Tony Dunnell.
LATAM Perú (LAN)
LATAM Perú (www.latam.com), formerly LAN Perú, is a subsidiary of the Chilean LATAM Airlines. LATAM has been the dominant force in the domestic market for the last few years, carrying about 60% of all passengers from 2015 to 2021.
As well as flying to all major airports in Peru, LATAM also has international flights from Lima to various South American nations, the U.S.A, Mexico, Cuba, the Dominican Republic and Spain.
Pros: LATAM Perú is a good airline, there's no doubt about it. The service is solid, the planes (Airbus 319 and 320) are in excellent condition and flights normally run on time.

Cons: It's often more expensive to fly LATAM in comparisons to airlines like Star Perú and Sky Airlines or Viva Air. You also have to be careful with the fine print (it's not so fine, to be honest). If you accidentally purchase a ticket aimed solely at Peruvian nationals, you could get hit with an additional US$177 fee at the airport. 
Peruvian Airlines at Lima Airport. Photo by Tony Dunnell.
Star Perú
Star Perú (www.starperu.com) has been around in one form or another since 1997. In 2020 and 2021, Star Peru had a hard time keeping afloat due to the enormous economic damage caused by the pandemic, and they almost went under due to the lack of business. However, in late 2021, Star Peru was positioned in third place of the Peruvian airline market share (8%), leaving behind other airlines such as Viva air. 
Star Perú has no international flights. Domestically, it flies from Lima to Cusco, Huánuco, Tarapoto, Iquitos, Pucallpa and Puerto Maldonado.
Pros: Among the established domestic airlines in Peru, Star Perú is one of the cheapest. It's a no-nonsense airline in terms of cost, with no hidden fees. Its accident record is also good.

Cons: Reliability can be an issue with Star Perú. I once had to wait eight hours in Tarapoto Airport for a delayed flight; apparently, the plane had hit a truck in Iquitos (an explanation that left much to the imagination). You're more likely to experience delays with Star Perú during the rainy season in parts of Peru, especially in jungle regions. Another annoying thing with Star Perú is the confirmation email after booking, or the lack of one. After completing a ticket purchase on the Star website, you should see a confirmation page. But some people justifiably wonder if it has actually been confirmed, expecting to receive an email confirmation. But that doesn't always, or perhaps ever, happen. What you need to do is make a note of your reservation code (

código de reserva

), which should be six letters (e.g. UADPSV) and then click on the E-ticket tab on the Star website. Enter your code and your surname and you can see your confirmed booking; click on another button to see and print out your E-ticket.
The look of Viva Air, the new low cost airline in Peru. Image from www.vivaair.com.
Budget Airlines in Peru
Finally, some budget airlines in Peru! But before you get too excited, read on…
VIVA AIR PERU
With plenty of fanfare and a crashed website due to a sudden surge in traffic, Viva Air Peru (www.vivaair.com/pe) began selling its low-fare tickets in April 2017. The inaugural fares started at just under S/ 60 for flights from Lima to destinations including Cusco, Piura, Arequipa, Iquitos, Trujillo, Tarapoto and Chiclayo. Prices then increased but generally remain cheaper than the competition.
A one-way flight from Lima to Cusco with Viva Air costs about S/ 155. In comparison, the same ticket with other domestic airlines in Peru is about S/ 250 to S/ 300. But be aware of additional costs for check-in baggage. Viva Air won't necessarily be any cheaper than other domestic airlines in Peru unless you're traveling really light. Always read the fine print before buying a ticket.
It's also well worth noting that Viva Air has been taking plenty of flak (not literally, thankfully) for delays, cancelled flights, poor customer service (especially when trying to get a refund) and other issues. Perhaps this is why its share of Peru's airline market has fallen to less than 5% in 2021. So unless you find a real bargain ticket, it's worth considering other airlines listed here before settling on a slightly reduced fare with Viva. And since Viva Air started operating in Peru, it seems like all the other domestic airlines have dropped their prices or have more offers than before.
SKY AIRLINE
Sky Airline is positioned number 2 in the Peruvian airline market share (13%), almost 5% less than 2022. Like Viva Air, Sky Airline has some flights that look very cheap, at least initially. But they have also been criticized for all their extra charges (luggage, etc.), which can add up and make them even more expensive than some regular airlines. So check the fine print carefully before you buy your ticket.
Regional Domestic Airlines in Peru
Smaller domestic airlines pop up in Peru every now and then, but few of them last for long. They typically operate along just one or maybe two routes, plugging a gap in the nationwide network. Some are subsidized by the government in order to help boost tourism in a particular city or region.
Current regional airlines include:
SAETA (www.saetaperu.com) — Subsidized by the Peruvian government, SAETA flies small nine-passenger Piper Cheyenne III turboprop aircraft between Tarapoto and Chachapoyas. The price? Just S/ 60 for Peruvians and other legal residents of Peru, which is about the same as taking the bus. Unfortunately, foreign tourists have to pay S/ 220, which is pretty expensive for a 25-minute flight. But it's either that or the bus, which takes eight hours.
ATSA (www.atsaairlines.com) — Another small airline, ATSA has very useful flights direct from Lima to Chachapoyas every Monday and Thursday. Tickets start at around US$65 one way.
LC Perú
NOTE: Some LC Perú services were suspended in November 2018 because the company didn't have the correct and current aviation insurance policy. It looks like they're now being pushed into bankruptcy proceedings, so avoid flying with them until further news is available.

Up until 2015, LC Perú (www.lcperu.pe) was on the fringes of the domestic air travel market, operating limited flights to only a few destinations. But then it expanded its operations, adding aircraft to its fleet and operating along more routes.
Previously, the LC Perú fleet consisted of small Bombardier Dash propeller-driven passenger planes. With the addition of Boeing 737-500s, the airline has become more of a contender and a viable inclusion in the list of the main domestic airlines in Peru.
LC Perú has no international flights, but its range of destinations within Peru is impressive. It flies from Lima to 12 other Peruvian cities. These include destinations most other airlines don't fly to, such as Tingo Maria, Andahuaylas and Huaraz.
Pros: Fairly cheap and reaches places other airlines do not reach. A perfectly reasonable alternative to the airlines above, although delays are more common.
Cons: Despite its expansion, LC Perú remains a small outfit in comparison to the other four major airlines in Peru. The service is basic, so don't expect much in the way of freebies or personal attention. The baggage allowance on smaller LC Perú planes is also less than normal.
AVIANCA
Avianca (www.avianca.com), formerly TACA Perú, is part of the Synergy Group, a South American conglomerate headquartered in Brazil. Avianca still uses TACA codes and some planes have not been rebranded yet (so don't worry if you book an Avianca flight but start boarding a TACA airplane).
Avianca has flights to more than 20 different countries across the Americas. Within Peru, Avianca has regular scheduled flights from Lima to Arequipa, Cusco, Iquitos, Juliaca, Piura and Trujillo, and from Cusco to Puerto Maldonado.
Pros: Similar to LATAM, with good service and high reliability.
Cons: Avianca's network in Peru isn't as extensive as that of some other airlines. Ticket prices tend to be higher than Star Perú, LC Perú and Peruvian Airlines. And, as with LATAM, you have to watch out for fares aimed only at Peruvian nationals (especially promotional fares), as you could be hit with an additional fee if you accidently purchase a resident-only ticket.
PERUVIAN AIRLINES (ALL FLIGHTS SUSPENDED IN OCTOBER 2019)
Peruvian Airlines (www.peruvian.pe) began operating in 2009 and, for a good few years, was a major player, often sitting in second place in terms of market share, carrying about 13% of all domestic passengers (therefore a long way behind LATAM and just ahead of Avianca).
But on October 4, 2019, Peruvian Airlines announced it had suspended all flights and closed offices until further notice due to a "lack of liquidity." It had been flying on fumes, and finally took a nose dive, causing a lot of havoc at the airports and anger among passengers. But the game is not yet over for Peruvian, as about a week after its collapse a group of international investors completed the purchase of 100% of the airline. This information will be updated as new developments occur.