You won't find many all-inclusive resorts in Peru. The concept is rare, and you might think that's a good thing: The all-inclusive holiday doesn't exactly have the best of reputations, especially among travelers who like first-hand, independent experiences of local cultures, rather than five days of unlimited booze and body-boarding on a private beach in the Bahamas.
But… each to their own. And there are actually some interesting all-inclusive "resorts" in Peru — ranging from beach resorts to lakeside lodges to Amazonian canopy treehouses, all offering some form of todo incluido…
The all-inclusive Royal Decameron Punta Sal on the north coast of Peru. Photo by decameron.com.
Royal Decameron Punta Sal, Tumbes
The Royal Decameron Punta Sal was the first genuine all-inclusive resort to open in Peru, and is still the only "classic" ("typical" might be a better word) all-inclusive you'll find in Peru.
The resort has all the inclusiveness you'd expect from a Barcelo, Club Med or Sandals resort in the Caribbean: three meals a day; alcoholic and non-alcoholic drinks; scheduled daily activities; tennis courts; non-motorized watersports; a nightclub and more.
The north-coast location in Punta Sal, Tumbes is good for sun, sea and sand, at least by Peru's Pacific coast standards. This stretch of coast is also a surfing hotspot. The resort is about 10 miles up the coast from Máncora, and a one-hour fifteen-minute ride from the airport in Tumbes.
If you're looking for a warm coastal getaway where you can relax without thinking about a thing, then the Royal Decameron Punta Sal is the best all-inclusive option you'll find in Peru. Just don't expect it to be as fancy as the big name resorts in the Caribbean.
El Pueblo Resort, an all-inclusive option in Lima, Peru. Photo by hotelelpueblo.com.pe.
El Pueblo Resort & Convention Center, Ate Vitarte, Lima
El Pueblo Resort is located in the Ate District of Lima, about 10 miles directly east of Lima's Plaza Mayor (main square). That's the opposite direction from the coast, so no beaches at this resort. Instead, you'll find yourself on 40 acres of landscapes gardens, with seven swimming pools and more than 200 rooms.
According to the resort's website, a number of famous names have stayed at El Pueblo during its lengthy history, including Italian actress Gina Lollobrigida, Spanish crooner Julio Iglesias, and former U.S. President Jimmy Carter.
With its all-inclusive package, El Pueblo now attracts couples and families looking for a stress-free escape from the capital. The "Todo Incluido" system includes three meals a day from six on-site restaurants; unlimited alcoholic and non-alcoholic drinks from seven bars (including a karaoke bar, if you enjoy such awful things); access to all the pools, as well as the Jacuzzi, sauna, golf, gymnasium and more.
Online reviews of El Pueblo Resort are mixed and range from terrible to "best mini-vacation ever." It's probably best to go with expectations lowered, just in case. But for an all-inclusive experience near Lima, this is your only real option. Despite no mention of it on the El Pueblo website, the resort is a Decameron-managed property (like the Royal Decameron Punta Sal, above). Which would explain the all-inclusiveness.
The Treehouse Lodge in Peru. Photo by treehouselodge.com.
Treehouse Lodge, San Juan Bautista, Iquitos
The Treehouse Lodge website proudly states that this is the "only all-inclusive treehouse lodge in the Amazon." Considering the combination of those three things — all-inclusive, Amazon, and especially treehouse — the uniqueness is understandable.
Treehouse Lodge is located on the Yarapa River, a tributary of the Amazon, about 55 miles south of Iquitos (as the toucan flies). It also sits on the northeastern tip of the Pacaya-Samiria National Reserve. The lodge has 10 treehouses tucked up in the canopy, so you'll be at eye level with some of the local wildlife. The lodge also offers an array of jungle excursions, including sunset trips to see pink river dolphins, piranha fishing and jungle walks to spot sloths and night monkeys.
Reputation-wise, Treehouse Lodge is about as solid as it gets. It's been featured by the likes of National Geographic and Animal Planet, and has plenty of excellent reviews in print and online.
It's not totally inclusive, however, so check the not-so-fine print before booking. The package includes transport from Iquitos Airport to the lodge and back; three meals a day; bottled water and juice; excursions of your choice; and a bilingual guide (Spanish/English).
Alcohol isn't included, which is probably a good thing as treehouses and drunkenness are not a good combination (I'm speaking from experience here). Personal expenses, tips and souvenirs are also additional extras. Per person rates start at $695 for three days/two nights.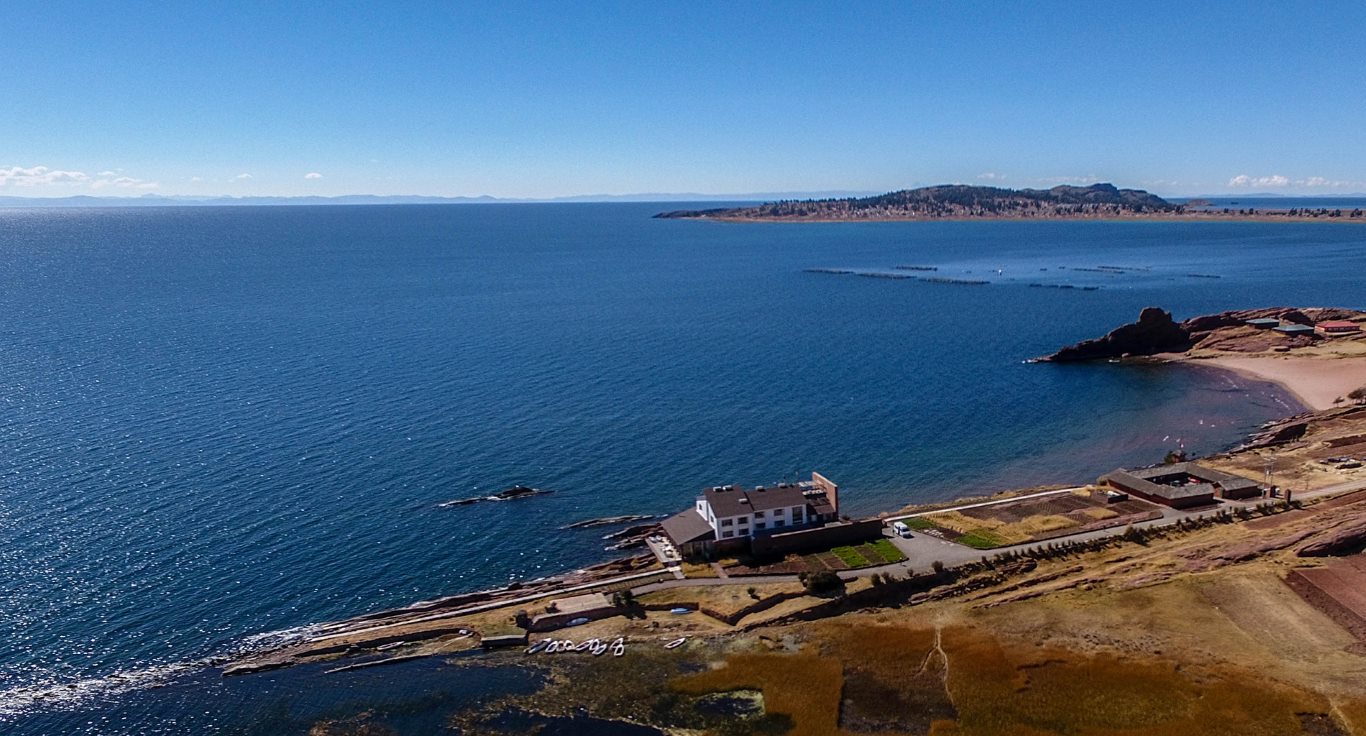 The Titilaka lodge on the banks of Lake Titicaca. Photo by titilaka.pe.
Titilaka, Lake Titicaca
Located on a private peninsula, Titilaka is a true luxury all-inclusive experience with stunning views across Lake Titicaca.
The 18-room boutique lodge is about as far as you can get from the boozy beach scene of classic all-inclusive resorts. Here, sophisticated services mix with Andean culture to create a unique experience in one of Peru's most enchanting environments.
As a member of Relais & Châteaux, it's also no surprise that the food at Titilaka is also gourmet standard. Titilaka's resident chef, María Fé García, uses local ingredients to produce elevated Andean dishes, which can be eaten in the main dining room, on the terrace, or brought to your room.
The all-inclusiveness extends to three meals a day. The bar is also free all day, with additional cocktails at dinner time. You'll have more than a dozen complimentary excursions to choose from (with bilingual local guides), including trips to Sillustani and the main islands of Lake Titicaca. You can choose one full-day excursion each day. Expect to pay upwards of $1,000 a night for a room.
More (Almost) All-Inclusive Resorts, Lodges and Hotels in Peru
The following hotels, lodges and resorts offer packages that approach all-inclusiveness, but fall too far short to be considered all-inclusive resorts in Peru:
Belmond Sanctuary Lodge, Machu Picchu — The Belmond Sanctuary Lodge at Machu Picchu offers a handful of packages that flirt with the all-inclusive category. The "Citadel Experience," for example, includes a daily buffet breakfast and à la carte lunch and dinner; all beverages except premium brands; and two entrance tickets to the Machu Picchu archaeological site (with a private guide). Rates begin at around $650 per night.
Belmond Las Casitas, Colca Canyon — Like the Sanctuary Lodge, Belmond Las Casitas offers a package that is nearly all-inclusive. Book the "Full Board Package" and you'll have a daily buffet breakfast, lunch and dinner, and a few activities thrown in (but no alcohol). These include complimentary cooking and pisco lessons each day, property tours, alpaca feeding, trout fishing, star gazing and twice-weekly yoga sessions. Daily rates start at around $480.
Hotel Paracas Resort, Paracas — If you're looking for an all-inclusive resort in Paracas, the Hotel Paracas Resort is as close as you're going to get — just check what packages they currently have on offer. At time of writing, the "Paracas: Pack And Enjoy Paradise" package offers a family-oriented deal including accommodation; buffet breakfast, lunch and dinner; complimentary kayak and catamaran use; and various discounts at the bar and spa.